This discussion aims to guide you in choosing the best camera backpack for travels. And while I am at it, I will also recommend some of the better options you can look at.
A camera backpack is a quintessential requirement for a photographer who travels. It does not matter whether you travel frequently or once in a while; if you carry your photography equipment, you need a camera backpack to keep your gear safe.
With the gazillions of options available on the market, the process of buying a camera backpack can quickly become a very confusing and troublesome experience, it certainly was for me. That is, if you don't know what exactly you are looking for. Not to mention all the different types of camera bags out there, such as messenger bags, tough cases, holster bags, roller bags, and tripod bags. Perhaps in a later discussion, I can talk about the rest of the different kinds of bags.
This discussion isn't only aimed to give you some pointers as to what exactly to look for in a camera backpack when choosing one but also share with you some really good backpack options that you can check out. Hopefully, by the time you finish reading this, you can make an informed decision as to which backpack suits your requirements the most.
Best Camera Backpacks – Our Review
If you want to get to the best part straightaway, then here is the list of the best travel camera bags/backpacks
Why do you need a camera backpack?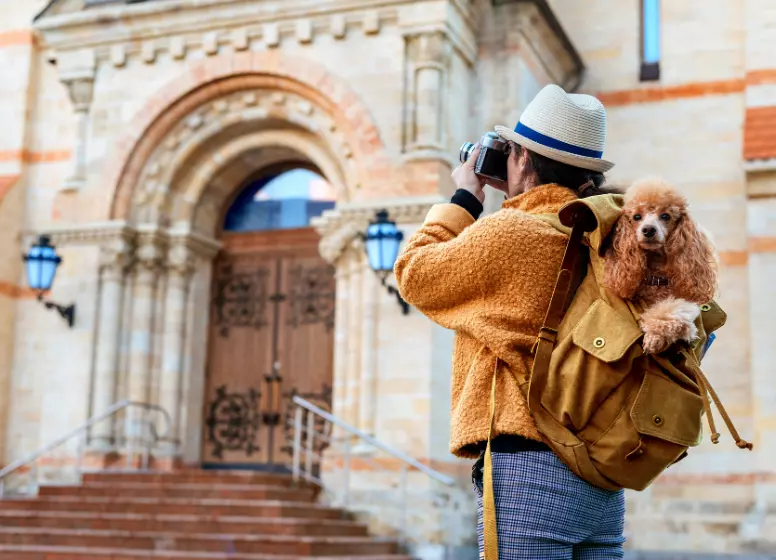 Being a photographer and someone who often travels with his photography gear, I know I can never say I have enough camera bags. I am obsessed with them. I have different kinds of camera bags, and I tend to pick the one that suits the type of work I have planned and how I travel.
So, the first thing to establish is what your photography plans are. Are you traveling with a lot of gear? If yes, then you need a camera backpack.
It could be because you're traveling with heavy gear, and it becomes a lot easier to carry a heavy camera and lens when safely tucked inside a backpack.
Or do you plan to travel long distances, possibly on an international flight, and need something safe and sturdy to put your camera and lens in?
Alternatively, it could be because you expect bad weather and need something weatherproofed to ride the bad weather when it is upon you.
Or perhaps it is just a matter of convenience? You just need all the equipment you're traveling with to be safely tucked inside one backpack to grab the gear you need when you need it.
Many travelers buy a backpack so that their hands are free when exploring a new place. So, it is not just for your camera and lens; it could be for keeping other items such as keys, travel documents, extra cash, a laptop, and even a few books.
Congratulations! You just established the basic requirements for which you need the Best Camera Backpack for Travel.
Best camera backpacks for travel in 2023
the first thing that you're going to notice when you pick up the Peak Design Everyday Backpack V2 20L is the clean design. There are very few dangling straps which immediately reassures me. The reason is I have had my more than fair share of complications arising out of danging straps caught into something or the other, including an incident where the strap with the plastic fastener got caught in the rollers at the security check!
This V2 is a 20L backpack that you can use to carry your most essential shooting gear. That could either be a mirrorless camera accompanied by 3-4 lenses and one Speedlight. Or it could be a full-frame DSLR with a standard 70-200mm lens and another backup lens. Another combination in which you could use this backpack is to pack a crop DSLR and pack 3-4 lenses.
And if you're a content creator or someone who likes to carry a laptop along for quick edits and stuff, there is a sleeve to slide in a 13-inch – 16-inch laptop.
The cool thing about this bag is that there is a secret additional storage that you can leverage when you've extra items to pack. On the 20L version (there is a 30L version as well), you can use the built-in MagLatch hardware that expands the storage by an additional 3L.
One more feature about this backpack I like is the durability of the design and the fact that it's weatherproof. It's designed using a 100% recycled 400D nylon canvas shell and has been double PU-coated to ensure that the elements are kept out. Once your camera body, lens, and accessories are inside it, you don't have to worry about them, even if the weather turns bad on you.
This bag is designed for comfort. There are multiple handles on the backpack. So, when you're not carrying the bag around your shoulders, you can carry it along like a briefcase in whatever orientation you feel like. The vented quick-drying mesh back padding is made of breathable material. This ensures that the camera travel bag can be carried on your shoulders for a long duration.
Apart from these, there are a plethora of other sleeves and small pockets to slide in your passport and travel documents, keys, memory cards, and other personal items.
The Wandrd Prvke has always been a fantastic design for travel photographers. The good thing is that the backpack design has been updated significantly and for the good. Starting with the back panel and the shoulder straps, everything is now made out of a comfortable and breathable fabric that's a lot more convenient to use over a longer stretch of time. That means if you're hiking to get to a good photography spot or you are out and about exploring a new city, this is the hiking backpack with camera compartment that you would ideally want to be on your shoulders.
Inside there have been a lot of interesting changes. For a start, the hidden passport pocket is now larger and yet, at the same time, more discreet. They've also used stronger magnets in the handles and have also updated the zipper pullers. Even the key hook has been updated for more convenient use.
There used to be a fleece-lined pocket inside the backpack. It has now been attached to the flap access point of the upper compartment. Also, the opening direction has been reversed as well for more convenience. It no longer hangs on your face when you access the top compartment inside the backpack.
The laptop sleeve design has been updated as well. A total of three new pockets have been added to the laptop sleeve. You can slide in travel documents or other thin items inside this at your convenience. This is perfect for short trips.
There are six different color options for this bag. Plus, there are three different capacities. Apart from the 21L option, there is a 31L as well as a 41L option. I prefer the smaller 21L option for the specific purpose of a travel backpack/daypack.
This is a weather-resistant design and should be able to handle a bit of rain and dust without any issues. At just 1.3 kilos, this is a very lightweight bag and does not add a lot of bulk to your shoulders. If you're planning a quick weekend getaway and just need one camera and a lens, and perhaps a tripod, this is the best camera backpack for travel and hiking.
if you're looking for the toughest of camera backpacks that can withstand the roughest of weather, then you don't have to look beyond the Lowepro Whistler 350 AW II. Designed to keep your photography equipment safe no matter the conditions, you can take the Lowepro Whistler 350 AW II with you whether you're headed for a weekend getaway or for a longer vacation.
This versatile backpack can work as your standard lowepro camera backpack or a daypack, whichever way you want to use it. If you use this as a standard camera backpack, you can easily fit in a full-frame DSLR with a short telephoto lens mounted on it. Even after that, there would be enough space to pack in three more standard prime lenses and accessories.
Being a slipt design with dual-purpose usability has its advantages, and one major advantage is that you can remove the partition that splits the two halves of the backpack. That will allow you to pack a longer lens. If you're a birding enthusiast or a wildlife photographer in general, you can use this extra space inside the backpack to pack a super-telephoto lens.
Headed out to a remote location with your tripod? Don't worry. You can simply fasten your tripod to the Lowepro Whistler 350 AW II, and it will be able to carry the weight without any issues. You can even attach your skis, and they would be able to support the weight! There are attachment points on the backpack that allows you to securely fasten your skis or your tripod to it.
Inside there are a number of sleeves, pouches, and storage options. You can pack a 13-inch Windows laptop or a 13-inch MacBook Pro inside the laptop sleeve of the backpack.
The backpack comes with weather sealing in the form of AW Cover ™, preventing moisture, snow, dust, and dirt from getting inside the camera.
The one thing that I don't like, though, is the weight of the backpack. At 2.65 kilos, it's one of the heaviest backpacks on this list.
The Lowepro ProTactic BP 350 AW II works as your daypack or camera backpack. The backpack has a total of four access points in order to access your camera and lenses.
There are a number of ways you can access the backpack. A four-point access system that allows you fast and convenient access to your photography equipment. Additionally, there are quick-grab entry points on both sides.
The convenient design to access the contents from multiple locations means you can use this backpack as a standard messenger bag as well. I love the convenience that it brings! The unique features of the bag make it a good choice as a regular backpack for everyday use.
Even though the backpack has a storage capacity of only 16L, there is enough room inside for a full-frame DSLR mounted with a standard zoom lens. You can additionally pack a telephoto lens and three additional compact lenses. Or you can use one of the cubes to pack a slimmer second DSLR body or a mirrorless body. Apart from that, there is space for a speedlight and a number of pouches where you can put your knick-knacks.
If you're a travel photographer and traveling with a tripod, there are Velcro fasteners at the back of the backpack that lets you attach the tripod to the backpack. A small pouch ensures at least one leg of your tripod has a footrest.
There are a few SlipLock loops and tabs on the backpack that allows you to attach pouches and cases to keep additional items that you may require on your travels. In reality, however, that can quickly get very messy if you use too many pouches dangling from loops and tabs.
This backpack made out of ballistic nylon is the right size to be qualified as carry-on luggage. I have already written my thoughts about checking in my camera bag at the airport.
At the back of the backpack, there is comfortable targeted support for your shoulder blades. Lowepro names this ActivZone. This area offers solid support at the shoulder blades, lumbar and waist areas allowing you to carry the backpack fully loaded without feeling the weight pulling you down. The back panel is designed with a lot of ventilation, perfect when you're working in a hot and humid environment.
The Tenba Fulton v2 16L backpack is a 16L backpack that doubles as a daypack, depending on how you will repurpose it. The Fulton V2 is relatively inexpensive compared to some of the other backpacks I mentioned.
With a weight of 1.27 kilos, it's also one of the lightest backpacks on this list. The dimensions (11 x 20 x 7.5 inches) make it ideal for carry-on baggage. There are three sizes (including the one I am reviewing here) and two different colors.
With just 16L storage, you might think there isn't much space inside the backpack. It can pack one full-frame DSLR with a medium telephoto lens mounted on it and around 5-6 additional lenses. Alternatively, you can pack in a smaller mirrorless camera, a compact drone, a full-frame DSLR, and lenses.
Additionally, there is a sleeve to slide in a 16-inch laptop. Speaking of laptop sleeves and access to the backpack's contents, access is restricted to the back. This is the side that faces the user's back. Nothing can be accessed from the sides, securing your camera and other gear from snatching. But that also creates a different problem of restricted access for the user.
The backpack has an interesting rolltop design. This is very versatile. When it's rolled tightly, the backpack's contents are secured against the elements of nature. Again, when you need to puck in a few extra things, the rolled top allows you to expand your storage.
Another good feature of this best travel camera bag for mirrorless is its weather-resistant design. It's designed using water-repellant 600D canvas and has a 300g brushed tricot interior. This is a cross-woven fabric that has a textured feel to it. It's very durable yet a sheer fabric that offers a lot of ventilation.
Additionally, all the zippers are YKK ® branded, and the stitching all around the backpack is heavily reinforced. It's reassuring to know that your equipment is safe and protected against nature and other elements, no matter where you're.
As the name suggests, this backpack is designed for people who spend much time outdoors shooting photos. So, if you're a landscape or wildlife photographer and need a backpack, you can look at the Gitzo Adventury. This is a great camera backpack if you travel with a lot of gear.
The 30L version I am referring to has a lot of storage space inside it. It is perfect for heavy loads. If you feel this isn't enough, there is a 45L version that can pack enough equipment for low-budget movie production. Pack enough items for a week-long vacation and your camera gear.
The access to this main compartment is via the back of the backpack. Unzip this area, and the padded backrest folds away to give you access to your camera and lenses.
The manufacturer states this is a "premium outdoor backpack." This bag is designed for outdoor activities, trekking, hiking, and wildlife photography sojourns.
Apart from these, many small compartments offer a lot of space to keep your travel documents, books, change of clothes, and knick-knacks. There are large side pockets all around the backpack. You can easily tuck in change, printouts, and other items of frequent use for easier access. There are straps on the sides of the tripod and the front to fasten a tripod.
There is a 13-inch laptop sleeve as well that would be perfect for a small MacBook Air or even a 13-inch MacBook Pro. A meshed flap separates the main compartment and the laptop sleeve. This ensures that the main compartment remains secure when accessing the meshed sleeve. However, on the flip side, you've to unzip two sets of zippers to reach your camera gear, which can be irritating for some photographers. I don't mind the design and the feature.
I have always felt the rolltop design is versatile because it gives the option to pack additional items when needed. Speaking of additional items, there is enough space for packing two full-frame DSLR cameras and extra lenses. Depending on the size of the lenses, you can pack around four of them.
The increased size means this bag loses out on the portability aspect. This isn't the least chunky design of all the backpacks that I have mentioned here. It weighs a decent 2.05 kilos.
Let's straightaway check out the storage capacity of the backpack. The backpack's storage capacity is 14L, and it can store 1 or 2 cameras (one full-frame and one mirrorless or crop body). The backpack would also have space for 3 to 5 lenses, including a 70-200mm zoom lens. After all this, there would still be enough space for a decent-sized drone.
Like the Tenba Fulton v2, the Tenba Shootout also has access to the camera compartment at the back of the backpack. This prevents snatches and stealing attempts if you're traveling in local transport in an unfamiliar place or walking through a thickly populated area. Alternatively, you could swing the backpack at the front of your body and access the camera compartment. That way, you don't have to detach the backpack from your body at any time.
The company uses a technology they label Pivot-Fit™ Airflow Harness – Straps. These automatically adjust to the shapes and contours of a user's body and shoulders for a snug fit. All the body contact points of the backpack are designed for maximum moisture wicking, ensuring that the user finds it comfortable to use the backpack for a longer duration.
The backpack weighs about 1.4 kilos and does not add a lot of bulk to your shoulders and body.
Now and then, you look for a compact yet functional camera. You look for a design that's no-frills, does what it's expected to do, and keep your photography equipment safe. And if it comes at a bargain price while it checks, nothing like it.
This best waterproof camera backpack for travel has enough space to pack a semi-professional or professional DSLR, together with up to four standard prime or standard zoom lenses and accessories. There is space to pack a mini drone like the Mavic Air and a Speedlight.
The waterproof hardshell case encapsulating the cubes ensures that your photography equipment always stays secure. Waterproofed PU leather material ensures that your equipment stays protected against the elements no matter where you're headed. Additionally, the hardshell ensures that the backpack can handle the odd bumps and knocks without any issues when you're passing through tough terrain or a highly populated area.
The hard shell is scratch-prone, especially if you're using public transport in some places or hiking through thick vegetation, or exposing the bag to rough terrain.
The padded shoulder straps can be adjusted to 17.72 to 39.4 inches in length. That should work with all body sizes. Additionally, you can hang additional accessories with the clip strap on the shoulder strap.
A dedicated tripod fastening strap is on the right side of the bag. A small pouch ensures that your tripod legs have a decent footing. On the other side of the backpack is a small pouch to tuck in a water bottle. If you're going on a trek, staying hydrated is very important.
Factors to Consider When Choosing a Camera Backpack: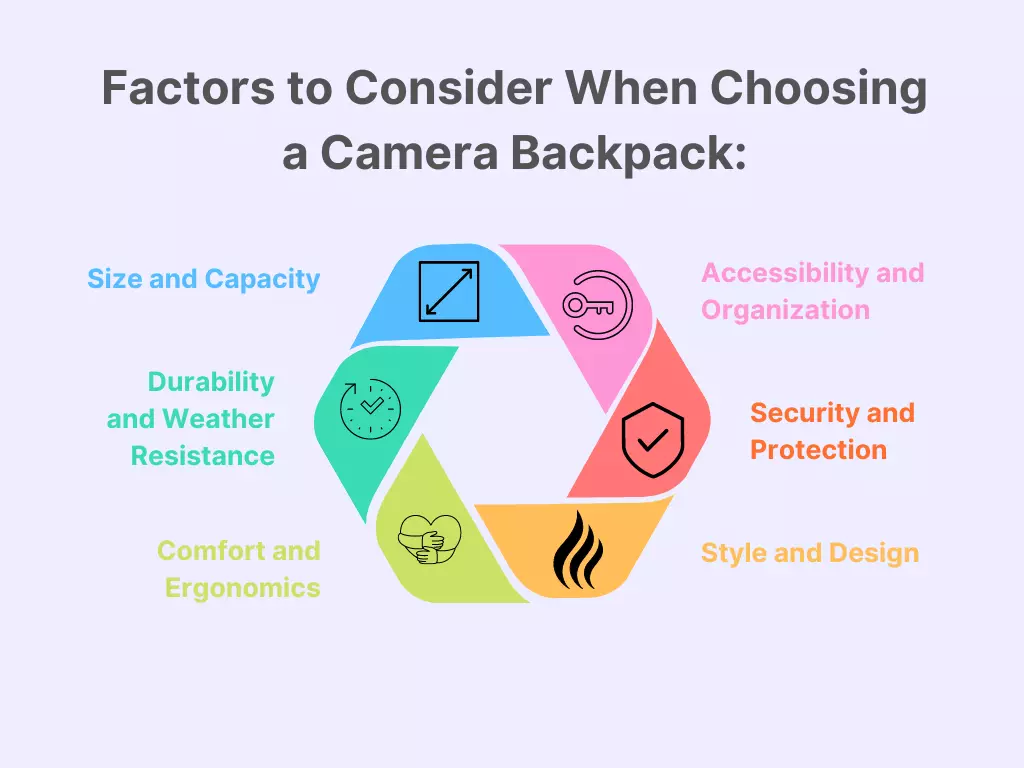 1. Size and Capacity:
You must consider how much gear you intend to carry when choosing the Best Camera Backpack for Travel. Make sure your camera body and lenses are the right size, as well as any additional accessories you may need. The adjustable compartments and dividers of a backpack allow you to customize it based on the equipment you are carrying.
2. Durability and Weather Resistance:
Camera gear is exposed to various environmental conditions while traveling. If you want a backpack that will last, choose one that is made from durable materials such as polyester or nylon. Your gear should also be protected from moisture by weather-resistant features such as water-resistant fabric and rain covers.
3. Comfort and Ergonomics:
Your camera backpack will be carried for extended periods of time, so comfort is of the utmost importance. Make sure your backpack has padded shoulder straps, a cushioned back panel, and a waist belt or chest strap so that the weight is evenly distributed. Comfortable ergonomic design minimizes body strain and ensures a comfortable fit.
4. Accessibility and Organization:
Easy access to your gear is provided by a good camera backpack. It is best to look for a backpack with multiple access points, such as a side or rear opening, so that you can reach for your camera without having to remove the entire backpack. Your equipment is organized internally with pockets and dividers.
5. Security and Protection:
The safety of expensive camera gear is paramount when traveling. Make sure the backpack has lockable zippers and hidden pockets where valuables can be stored. Bump and impact protection is provided by the backpack's padding and shock-absorbing materials.
6. Style and Design:
It is important to consider the style and design of the backpack as well as its functionality. If you prefer a more rugged and adventurous look or a sleek and minimalist design, choose a backpack that suits your personal style and preferences.
You may enjoy reading Best Cameras for Film Students
What photography gear you're traveling with?
It is needless to say that the kind of photography gear you're traveling with has a bearing on the camera backpack that will suit your needs. For example, if you are traveling with a super telephoto lens, you need a bag that's sufficiently big to be able to accommodate the lens. On the other hand, a smaller bag will do if you're traveling with a set of smaller standard lenses, even though there might be more than one lens you're carrying.
In the same way, a DSLR camera, which happens to be a lot bulkier and heavier, requires more space inside a bag. On the other hand, a mirrorless camera will require a smaller space to fit inside a bag.
Many professional photographers prefer to travel with a small laptop so that they can edit photos on the move. They want to be able to do basic shot selections and do light retouching whilst they're traveling. Many travel photographers prefer to make basic edits to their work while they are still at the location or at least the same day when they're back at the hotel while the scene is still fresh in their minds. Many, including videographers, carry multiple hard drives to back up their work on the go.
To do this, they need a platform to work on. They need a laptop. Invariably, they also need a backpack that has a dedicated slot for sliding a laptop in.
If you shoot with artificial lights like flashes or use accessories like filters and polarizers, you need a backpack that allows you to put them in little slots designed to keep smaller accessories neatly tucked in.
Not to mention if you use a tripod, you need to be able to fasten it to your backpack so that it is secured in place.
Size of the backpack
When I'm traveling on a flight, the thing I hate the most, apart from the security check-in process, is checking in my camera bag. With all due respect to the baggage handlers at the airports, I'm not too keen on handing over my camera backpack containing all my camera equipment and my laptop to someone I cannot trust to handle the bag with care. In a nutshell, I always ensure that my camera backpack is carry-on baggage. But therein lies a major problem.
With most airlines having very strict regulations in terms of the dimensions of your carry-on baggage, I have to conform to that limitation and ensure that the backpack fits either inside the overhead bin or under my seat. I'm sure there are many like me who are possessive about their photography backpacks. If you are like me, you have to ensure that the dimensions of your backpack are within the stipulated limits.
Another advantage of a smaller backpack is that it works as a daypack. You can configure it and take it with you for everyday use.
What major features to look for in the perfect camera bag/backpack?
The best travel camera backpack should be made of durable quality material.
Comfortable shoulder straps are a must-have for long usage.
The bag design should allow easy access to the contents of the backpack.
Yet at the same, the backpack should prevent unauthorized access/snatching of contents.
Good weather sealing, or at least weather resistance, is also a major requirement.
A compact size is ideal when you need a backpack to conform to airline carry-on baggage requirements.
A lightweight backpack ensures that it does not put needless weight on your shoulders.
A versatile design allows the bag to be configured for different needs.
You may enjoy reading Best Cameras Under $300
How to Choose the Right Camera Backpack for Your Needs: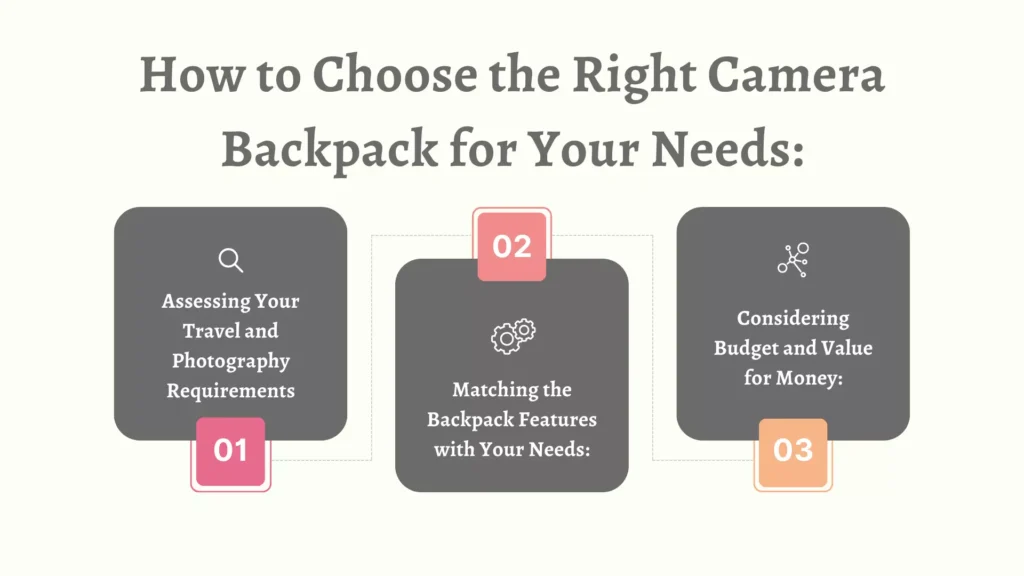 You should consider the following factors when selecting a Best Camera Backpack for Travel:
1. Assessing Your Travel and Photography Requirements:
Make sure you have the right photography equipment for the type of traveling you will be doing.
Take into account the length of your trip, the environment you'll visit, and the type of photography you'll do.
2. Matching the Backpack Features with Your Needs:
Size, capacity, durability, comfort, accessibility, security, and style should all be considered when choosing a backpack.
Choose the right camera for your travel and photography needs by comparing these features.
3. Considering Budget and Value for Money:
Consider the features and quality of each camera backpack option before setting a budget.
If you want a backpack that will last for years to come, you should make sure it's durable, functional, and long-lasting.
FAQs:
Can I use a regular backpack instead of a camera-specific backpack for travel photography?
In addition to compartments, padding, and other features designed specifically for protecting and organizing camera gear, camera-specific backpacks provide specialized compartments. For travel photographers, they provide greater convenience and security.
Can I carry a camera backpack as a personal item on flights?
The dimensions of camera backpacks usually fall within the personal item category, but it's best to check with your airline beforehand to make sure you're in compliance.
How do I clean and maintain my camera backpack?
A damp cloth and mild soap will usually clean most camera backpacks. Cleaning and maintenance should be performed according to the manufacturer's instructions. Your gear should be stored in a completely dry backpack.
Can I fit a tripod in all camera backpacks?
A tripod holder or compartment is not always included in camera backpacks. If you need to carry a tripod, choose a backpack with tripod carrying options or external attachment points.
Are camera backpacks only for professional photographers?
Professionals and amateurs alike can benefit from camera backpacks. In addition to protecting your camera gear, they make it easier to capture memorable moments when traveling.
Final Thoughts
Choosing the Best Camera Backpack for Travel is essential for any photographer who wants to keep their gear safe and organized while on the go or away at a photo shoot. There are many factors to consider when selecting a camera backpack, including look, size, comfort, durability, and storage capacity (A wedding photographer will have different needs compared to a landscape photographer!). After conducting extensive research and reviewing the selection of camera backpacks above, you won't go far wrong with any of these.
We hope that our in-depth article has provided you with useful insights and recommendations to help you find the best camera backpack. The Photography Revision team are always open to feedback so please let us know how you get on.
Moreover, if you need cameras you can check our guide on Best HDR Cameras For Photography