It is a great time if you are looking to buy the best cameras under $300. Many new entry-level compact camera systems and advanced mirrorless cameras are available. Not to forget the erstwhile king of the hill, the DSLR cameras. Though mirrorless cameras have firmly taken over the mantle from DSLR cameras, DSLRs are still going strong. A new camera type has emerged, and these are the vlogging cameras.
When picking a camera for yourself or that budding photographer in the family, you will be lost for choices, considering the number of available options. This discussion will look at some of the best camera systems you can buy in 2023. As this discussion is aimed at beginner photographers and amateurs, we will concentrate only on cameras with a price tag under $300.
If you're new to photography and would like some guidance on which camera is best suited to you then pls take our quiz to help you.
For those short on time our top two picks in this category are;
Table of Best Cameras Under $300
6 Best Cameras Under $300 detailed reviews
Canon EOS Rebel T100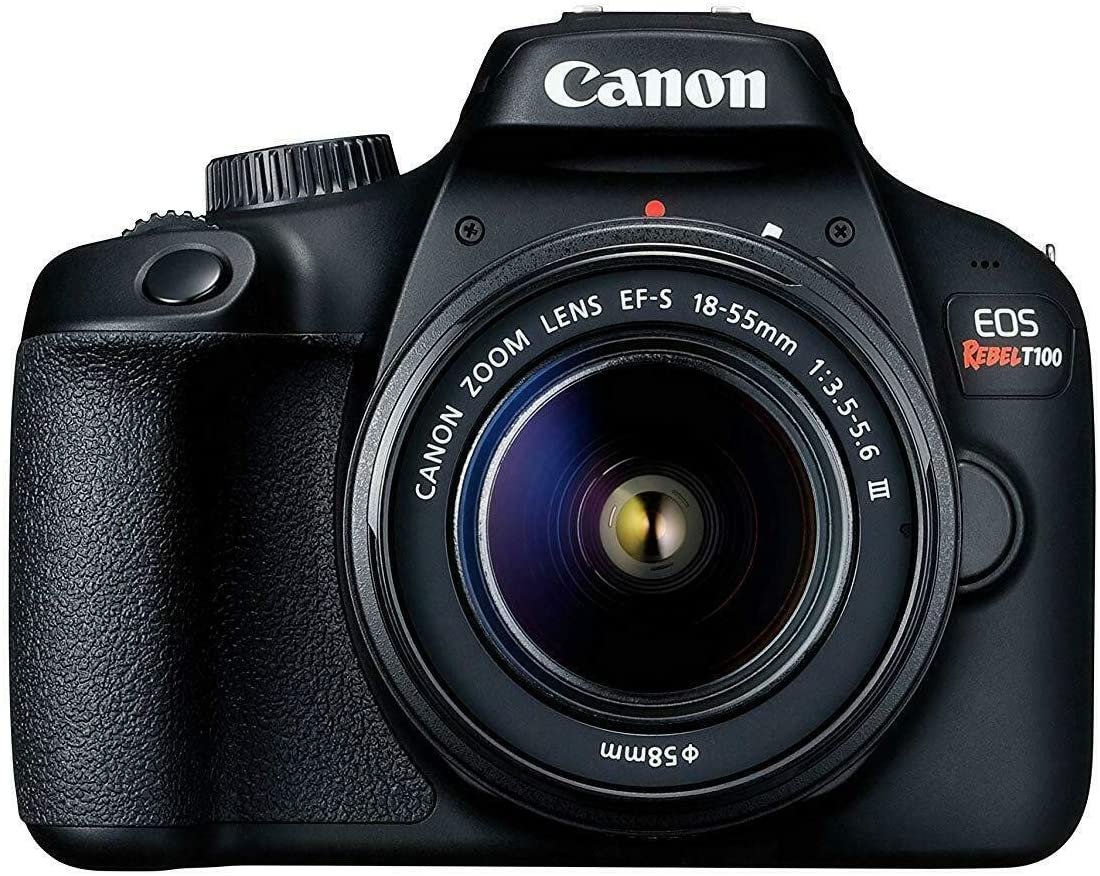 The Canon EOS Rebel T100 is the cheapest entry-level DSLR that you could lay your hands on. It is hard to get a decent point-and-shoot camera at this price range. And you are getting a complete DSLR with a kit lens that you can use to shoot your heart's content. One thing that separates this camera from the other cameras in this discussion is that it is an interchangeable lens unit. That means you can pair this camera with different lenses and shoot genres like macro, sports, wildlife, portrait, weddings, and fashion, to name a few.
Resolution
The camera is powered by an 18-megapixel APS-C CMOS sensor paired with a Digic 4+ image processing sensor that captures large bright jpegs and raw files. 18 MP is a lot of resolution for most kinds of work. The images you will be able to capture are of the size 5184 x 3456 pixels. It is easy to blow up and print large A3 or bigger prints. Thanks to the Digic 4+ image processor, the camera can process clean images with great detail.
Other details about the camera
This is a crop camera; therefore, the 1.6x crop factor kicks in whenever you mount a lens. Therefore, this camera's 18-55mm lens has an effective focal length of 28.8-88mm. That makes the 18-55mm lens ideal for shooting portrait images.
Please note that Rebel T100 does not come with built-in image stabilization. That means you must get an image-stabilized lens to get the benefits of shake-free and blur-free imaging. In any case, the kit lens is something you are expected to grow out of, and at that stage, you can buy a second lens, such as an optical zoom lens or a prime lens. You can opt for an image-stabilized lens at that stage, which minimizes camera shake.
The Rebel T100 has a native ISO range of 100-6400. I would say that for most everyday photography situations, if you want good image quality, you can stay within an ISO range of 100-3200 and get decent results. There is no point in pushing the ISO of these tiny APS-C cameras.
Let's quickly detail the video quality of this camera. The Rebel T100 is capable of capturing full HD videos. The camera can capture full HD video at a maximum frame rate of 30 fps. That should be more than enough for everyday videos, weddings, and travel videos.
One absent feature is the ability of the rear LCD screen to articulate. Articulated LCD screens allow vloggers to capture videos, all the while tracking where their faces are in the frame. This is one major reason that the Rebel T100 failed to excite vloggers.
A 9-point AF sensor with a center cross-type AF point powers the autofocusing mechanism on this lens. The center cross-type AF point is double in sensitivity compared to the other eight line sensors. Always focus on the center AF point for the best results, especially when shooting in low light and low contrast situations.
The continuous shooting speed of the camera is on the lower side. At three frames per second, this camera is not a great choice for shooting sports and wildlife photography. That said, you must remember there are other cameras for those specialized needs.
This camera is best for beginner photographers with a tight budget and looking for a great camera to get started. The Canon EOS Rebel T 100 serves that purpose perfectly. It handles well, can shoot great images in good light, and comes with extended bells and whistles, such as built-in wi-fi, ensuring that the camera can work in most situations.
Canon PowerShot ELPH 360 HS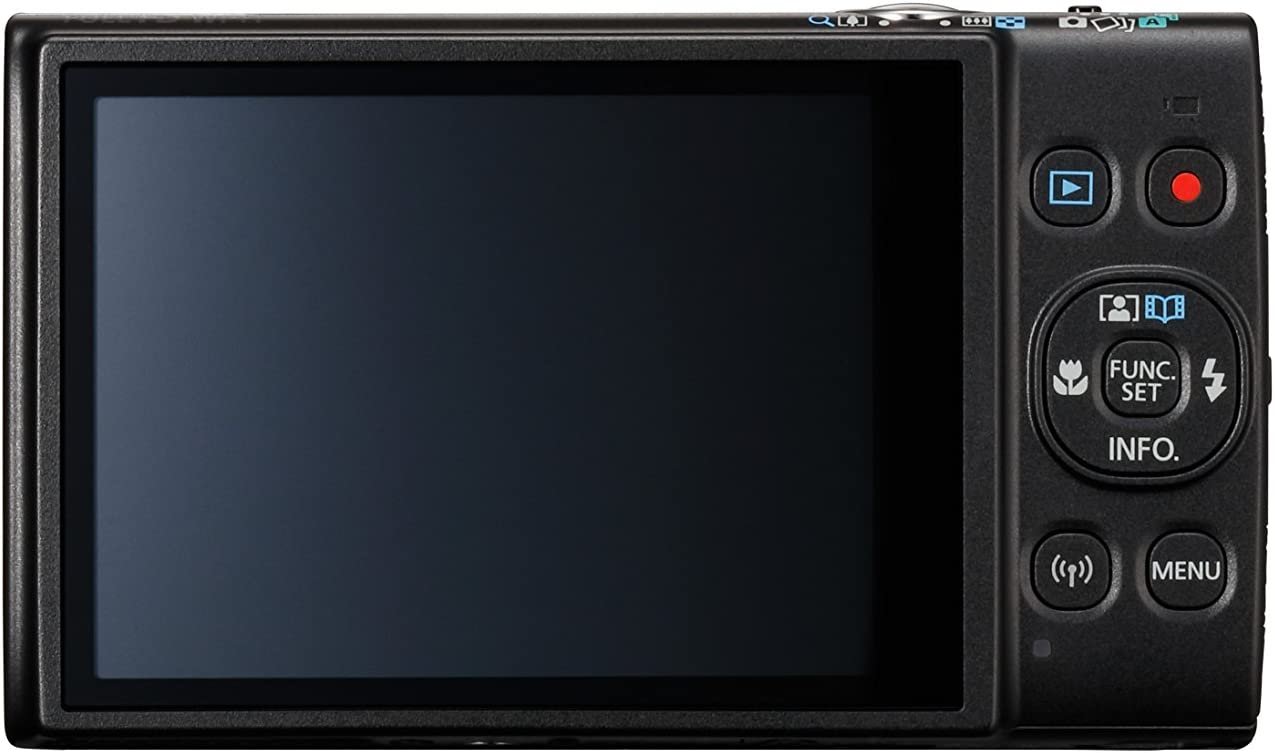 The Canon PowerShot ELPH 360 HS is a very useful compact camera with a sleek design and a host of features that make it a perfect camera for everyday photography needs. Compact point-and-shoot cameras are easy to handle and have a small leaning curve to make good images. This camera, in particular, has reasonable optical zoom, wi-fi connectivity, NFC, and other features that make it more than a decent budget camera.
Resolution
The PowerShot ELPH 360 HS is powered by a 20.2 MP 1/2.3-inch CMOS image sensor. This ensures that the camera can capture images of the size 5184 x 3888 pixels. The sensor is paired with a Digic 4+ image processor. Together the sensor and the image processor produce the HS system that can produce beautiful, well-lit, and sharp images in most kinds of lighting situations. The PowerShot ELPH 360 HS is one of the best point-and-shoot cameras in the business.
Other details about the camera
The built-in lens on the camera offers an optical zoom of 12x. The 35mm format equivalent is 25-300mm and offers a lot of flexibility in terms of the genres you can shoot. You can shoot portraits, birding, capture a bit of sport and even do wildlife photography thanks to the extended focal length. The lens features Intelligent IS image stabilization. The system incorporates three different types of image stabilization.
Normal IS ensures that the camera can stabilize standard camera movements. Panning IS ensures that when the camera pans, any movement that is perpendicular to that panning movement is stabilized. The third image stabilization is macro hybrid IS, in which the lens compensates for shifty-type image shake that normally happens when shooting small subjects from extremely small distances. There is a fourth mode that basically detects a tripod and automatically shuts off image stabilization because, with a tripod, image shake correction is redundant.
You can shoot full-HD videos with this camera. Intelligent image stabilization is also available during video shooting. Another video-only IS mode is Dynamic IS mode. This IS mode has been designed to stabilize hand movements when a person is walking while recording videos.
We love the built-in wi-fi and NFC capabilities of the camera. You can use these to connect the camera to any compatible device and then transfer images using wi-fi. No need to unplug the memory card and then plug it into a card reader to transfer images. Though I must add wi-fi transfer may take a bit longer at times.
You may enjoy reading Best Cameras for Sports Photography
Panasonic Lumix DC-ZS70
The price point of under $300 is very tight, and getting the best digital cameras with advanced features is difficult. We could only find entry-level camera systems at this price point which are no pushovers by any stretch of the imagination but lacks the advanced features that pricier cameras have. The idea here is to offer you a camera for someone just starting in photography.
At this stage, the most important aspect is the composition, as the camera takes care of the exposure. As you improve, you will start to take more control and want to get out of Auto mode and take charge of the exposure aspect. You will require a better camera at that stage and can migrate to one.
Resolution
The Panasonic Lumix DC-ZS70 is a compact point-and-shoot camera. Built around a 20.3-MP 1/2.3-inch MOS sensor, the camera can capture images of the size 5184 x 3888 pixels.
Other features
The built-in lens comes with a 5-axis optical image stabilization. This is very handy because the optical focal length range of the lens is a 35mm format equivalent of 24-720mm. This incredible 30x optical zoom range allows you to capture images of distant objects and fill the frame with them. There is also a maximum 120x digital zoom, but I don't recommend using that because this blows up an image using software and the final result is not good.
With all that zoom at your disposal, it is unlikely that you will not indulge yourself from time to time to test the capabilities of the lens. Optical image stabilization will ensure that the images don't turn out to be blurry when clicked at maximum zoom.
The ISO range of the camera is 80-3200. In good light, the base ISO of 80 is excellent because it allows for a little bit of leverage in terms of dynamic range. The higher base ISO limit of 3200 is pretty difficult to work with because of the amount of noise that creeps into the images. It is best to keep the ISO as low as possible for all practical purposes when shooting with compact cameras. The Panasonic Lumix DC-ZS70 is no different than any other compact point-and-shoot camera.
Unlike the PowerShot ELPH 360 HS, the Lumix DC-ZS70 has many creative exposure modes. You get Shutter priority, Aperture priority, and Manual mode along with the Program mode in this camera. These modes will help you exploit the many creative shooting options possible with the camera, just like you would with an interchangeable lens camera.
With this camera, you can also shoot 4K videos at a maximum frame rate of 30fps. At full HD, you can shoot at a higher frame rate of 60 fps, both progressive and interlaced, allowing you to capture at a higher frame rate to playback in slow motion. This is a fine camera and one of the Best Cameras Under $300 that come with most of the bells and whistles.
Minolta MN53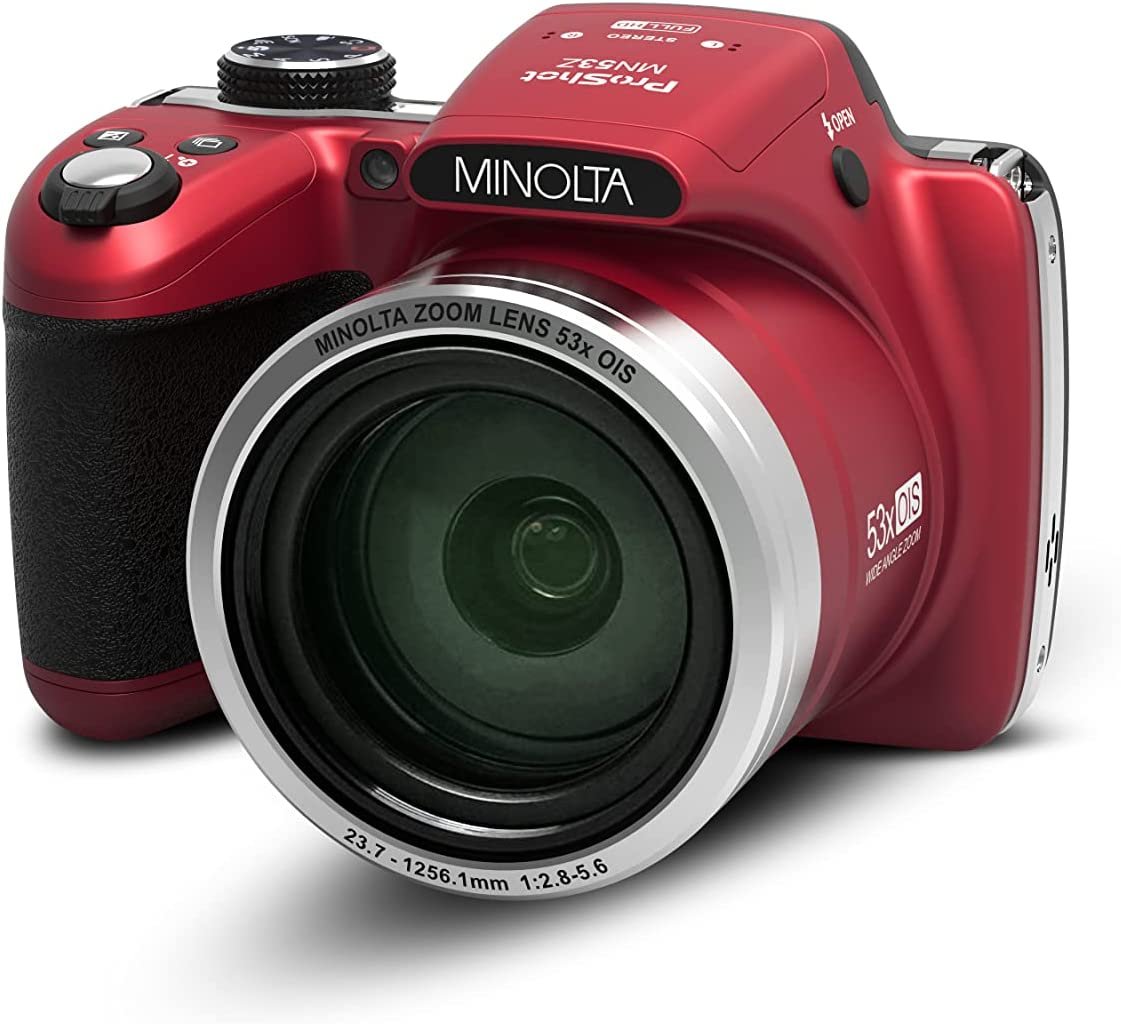 One quick look at the specifications of this camera, and you will understand that there is something special about it, which is the optical zoom range. This bridge camera (so named because of the look and feel of a DSLR and the convenience of a point-and-shoot) comes with an optical zoom of 53x. In 35mm format equivalence, that is 24-1256mm.
That's a whopping optical zoom range that allows you to zoom in on the moon and fill the frame. And if you are wondering, the built-in lens does come with optical image stabilization that ensures suppressed image shake and sharper images.
Resolution
Under the hood, the camera is powered by a 16-MP 1/2.3-inch BSI CMOS sensor. The base ISO of the sensor is 100-3200, meaning the camera isn't the best when it comes to performing in low light conditions. Ideally, keep your ISO to a lower number when shooting in low light conditions like ISO 1600, and don't push it too high.
Other features
One of the camera's best features is the presence of the shooting mode dial and the associated shooting modes. So, you can pick from one of the creative shooting modes like Aperture priority, Shutter priority, Manual, and of course, Program mode when shooting. This allows you to shoot using creative modes and take charge of things like exposure and depth of field.
The Minolta MN53 shoots full-HD videos at a maximum frame rate of 30 fps. There is, unfortunately, no 4K option on the camera. If you plan on using this camera to shoot travel videos, you must be only content with full HD. This is a great camera and is the best option for someone looking for a bridge camera with manual controls and a long optical zoom.
This is a great camera to shoot a bit of sport and wildlife. But you have to be careful of low light situations. Though the lens aperture is f/2.8 to f/5.6, the cropped sensor means the effective aperture will be smaller. In terms of weight, the Minolta MN53 weighs about 508 grams. It is not very heavy, nor is it very light. If you are looking for a lightweight, compact camera, the Minolta MN53 is one of the best options.
You may enjoy reading Best Cameras for Photojournalism
Nikon COOLPIX B500
The nikon Coolpix B500 comes from a long line of Nikon superzoom bridge cameras. The USP of these cameras is the long optical zoom and the exceptional handling of the camera that results in excellent images in most kinds of lighting situations.
Resolution
The camera is based on a 16-MP 1/2.3-inch BSI CMOS sensor. It can capture large fine jpegs and 4608 x 3456 pixels jpeg files. You can easily make large prints using all that resolution. However, there is a catch. There is no RAW option on this camera. You only get to shoot jpeg images.
Other features
Among the camera's main features is the focal length of the built-in lens. At 22.5-900mm (35mm format equivalent), the lens can capture excellent images of distant objects using high magnification and the 40x optical zoom. The digital zoom of 160x max sounds very tempting; however, as I have noted in this discussion, this is nothing more than just a software blow-up of the image.
The quality of the resulting images is poor. The results will not be satisfactory if you plan on printing your images. So, stick to optical zoom when shooting with this camera. Plus, the 900mm effective zoom is good enough if you photograph birds, wildlife, and a bit of sport.
The one thing I don't quite like is that the lens's aperture is f/3.5 to 6.5, which means when you are zoomed in fully, the aperture will drop down to f/6.5. Low-light shots will be difficult to work with this aperture. You need to be careful when using the long end of the zoom in poor lighting conditions. In good light, however, the lens works exceptionally well, capturing excellent images with great detail.
Speaking of low light and the ISO settings of the camera, the native ISO range of the camera is 125 to 1600. Again, just like any other compact camera, I suggest you don't push the ISO too high.
Panasonic Lumix DC-FZ80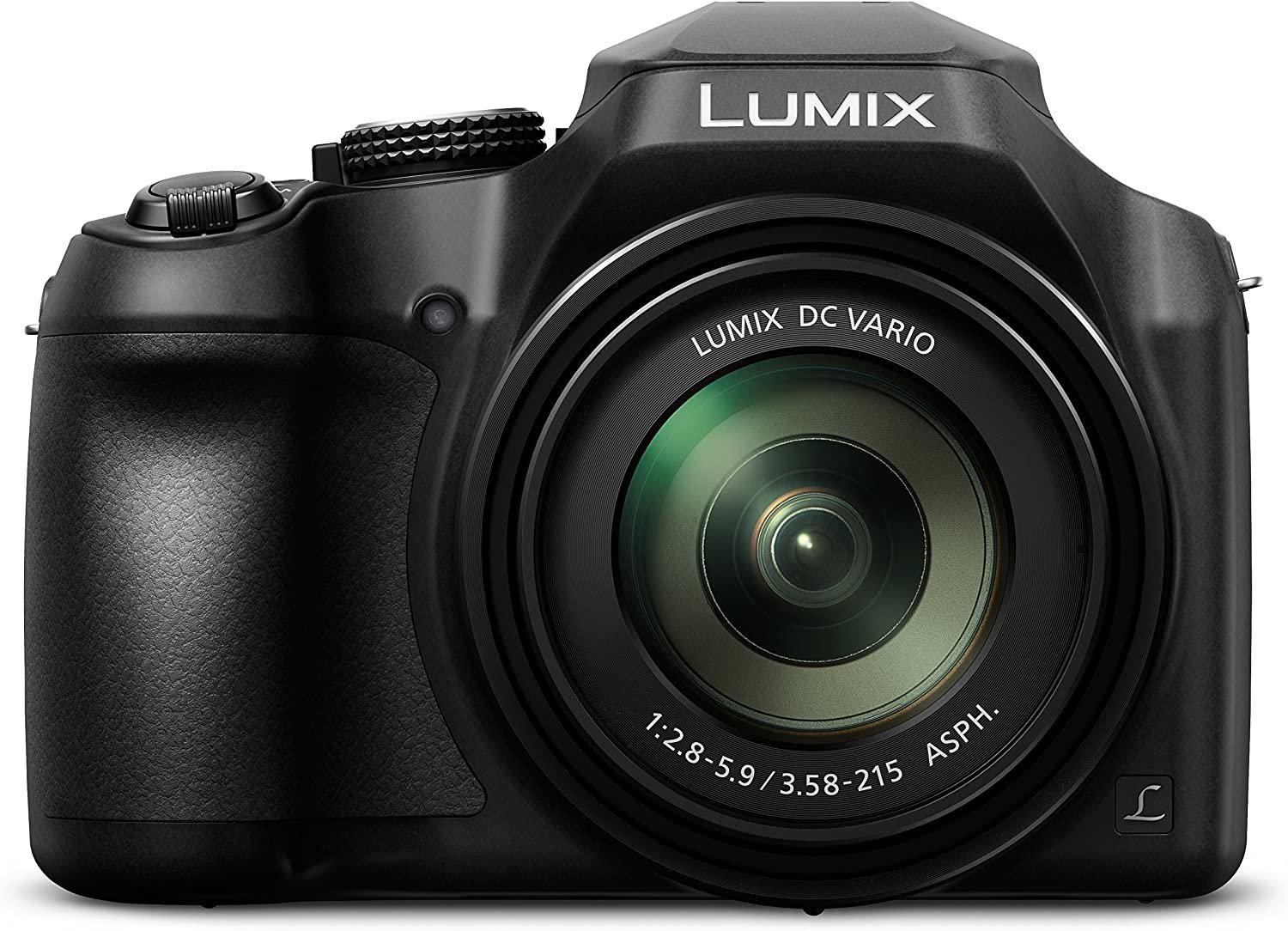 The Panasonic Lumix DC-FZ80 is yet another bridge camera and is a good choice if you are looking for a DSLR-like build and handling, and the convenience of compact point-and-shoot all rolled into one.
Sensor
An 18.1-MP 1/2.3-inch MOS sensor powers the camera. The camera has an excellent performance in good lighting conditions. That said, the maximum aperture of the lens is f/2.8 to f/5.9. That means the maximum aperture drops as the lens zooms in. At f/5.9, the camera will struggle in low-light situations, which should be kept in mind. The base ISO of the camera is 80 and extends to 3200. However, I insist that the camera should not be pushed beyond ISO 1600.
Small sensor cameras like the Panasonic Lumix DC-FZ80 don't always react very well to shooting at high ISOs in low light conditions. The resulting images are filled with noise, and the dynamic range of the images also drops. Stick to a lower ISO number to retain a higher dynamic range and, with it, better noise performance, especially when shooting in low-light situations.
Other features
One of the major highlights of the camera is the optical zoom range. The 35mm format equivalent zoom range is 20mm to 1200mm. Among all the cameras I have listed here, this camera has the second-largest optical zoom after the Minolta MN53. The optical zoom is large enough to capture a close-up view of the moon and impress your friends with its capabilities. To assist the optical capabilities of the lens, it has built-in optical image stabilization.
Another major highlight of the camera is the continuous shooting speed. At ten fps at full resolution and 30 fps at a reduced resolution of 8 MP, this camera can capture many frames in a second to assist in shooting high-speed and action photos. You can also shoot birds, wildlife, and sports photos, provided you are shooting in good lighting. Low light performance can be tricky, especially when the subject moves quickly.
One thing about that camera is that you have full manual controls over the exposure. You can shoot with the full manual mode or between the creative modes, such as Aperture priority and Shutter priority. The program mode allows absolute beginners to let the camera determine the exposure.
Coming down to the camera's video capabilities, you can shoot UHD/4K videos at a maximum frame rate of 30 fps. Alternatively, you can also shoot full HD videos at 60 fps. The built-in stereo mic records crisp sound along with the videos.
Factors to Consider Before Buying the Best Under 300$ Cameras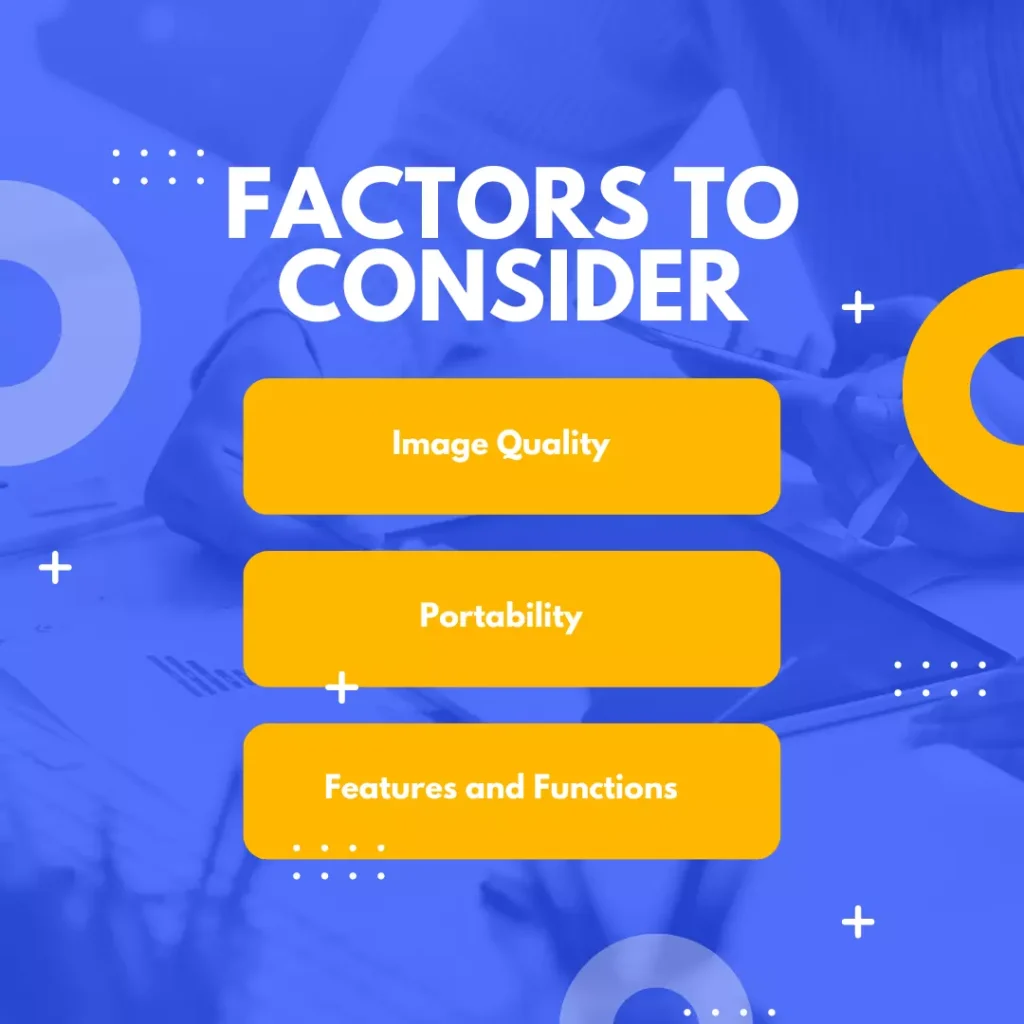 When searching for the best camera under $300, there are several factors to keep in mind. These considerations will help you make an informed decision and ensure that the camera meets your specific needs.
Image Quality
One of the most crucial aspects of any camera is its image quality. Look for a camera that offers a high resolution and produces sharp, vibrant images. Pay attention to the sensor size and the number of megapixels, as these factors greatly influence the overall image quality.
Portability
For those who enjoy taking their camera on the go, portability is an essential factor to consider. Look for a compact and lightweight camera that is easy to carry around without compromising on image quality or functionality.
Features and Functions
Consider the features and functions that are important to you. Do you need a camera with advanced shooting modes or manual controls? Are you interested in video recording capabilities or built-in Wi-Fi for easy sharing? Determine your requirements and choose a camera that offers the features you need.
You may enjoy reading Which Camera should I buy in 2023?
FAQs
Can I get a good quality camera under $300?
Absolutely! The cameras mentioned in this article offer excellent image quality and performance within the $300 price range.
Are these cameras suitable for beginners?
Yes, these cameras are well-suited for beginners. They provide a balance of user-friendly features and manual controls to enhance the learning experience.
Can I use these cameras for professional photography?
While these cameras are not specifically designed for professional photography, they can certainly produce high-quality images suitable for various professional applications.
How long do these cameras typically last?
With proper care and maintenance, these cameras can last for several years. However, the lifespan may vary depending on usage and handling.
Can I upgrade the lens on these cameras?
Yes, most of these cameras have interchangeable lenses, allowing you to upgrade and expand your photography capabilities as you progress.
Final Thoughts
Choosing the best option among these cameras can be a little difficult, considering that they have similar resolutions and other features. If you need a superzoom that is your priority, you can opt for the Minolta MN53 or the Panasonic Lumix DC-FZ80. These two offer optical zoom to the tune of 1200mm and more. Lumix DC-FZ80 and the Panasonic Lumix DC-ZS70 are great options for manual controls. You get compact bodies with full manual options that ensure you can get the best of both worlds.
Between these two cameras, we personally like the Panasonic Lumix DC-ZS70 more. This is because it encompasses the best of both worlds and is loaded with all the features you need from a powerful compact camera. It is lightweight, meaning you can pack it in your trouser or jacket pocket every time you leave home. That means you have a powerful camera with you every time you have a reason to take a picture. The manual controls ensure that you can adjust all shooting settings without depending on the camera.
For someone serious about photography, the manual controls allow them to control the exposure and the depth of field on demand. If you are planning long-term and willing to take your photography carer seriously, the Best Cameras Under $300 I recommend is the Rebel T100. It is a DSLR, meaning you can change lenses on demand. Once you grow tired of the kit lens, you can migrate to a different lens and give your photography a fresh perspective. In that sense, I recommend the Rebel T100 as the best camera for under $300.