Which are the best cameras for photojournalism? In this discussion, we shall look at a few cameras that professional photojournalists have used and like as their favorite photography tools. In the modern world, the news is collected and distributed in minutes rather than hours. If a photojournalist cannot capture the best moments and send them to their editors within the shortest possible time frame, there is a strong chance one of their competitors will. A photojournalist has to be present at the moment when something happens and be ready to click the shutter to capture it.
No single camera can be said to be the absolute best when it comes to photojournalism. It all depends on individual preferences and the genre that one shoots. Many photographers feel that the significant weight advantage that a mirrorless camera brings forth, is a great point that makes mirrorless cameras a good choice for this overall genre. Others prefer the advantage of body-based image stabilization that mirrorless cameras bring. DSLRs are not far behind. Though in recent years, DSLRs have lost their position of dominance to mirrorless cameras, they are still a force to reckon with, and we have shortlisted DSLRs on this list of the best cameras for photojournalism.
Without further ado let's take a look at the cameras – if you are short on time we have picked two cameras from our detailed research that we recommend
Our Top 2 Picks
Table of Best Photojournalism Cameras
Key Considerations for Photojournalism Cameras
When choosing a camera for photojournalism, several key factors come into play. These considerations ensure that photographers can effectively capture and communicate stories through their images. Here are the important aspects to keep in mind:
1. Image Quality
High image quality is paramount for photojournalism. Cameras with larger sensors and higher megapixel counts produce detailed and sharp images, allowing for greater flexibility during post-processing. Excellent dynamic range and color accuracy are also essential for capturing the true essence of a scene.
2. Low-Light Performance
In photojournalism, situations with challenging lighting conditions are common. A camera with excellent low-light performance and low noise levels at high ISO settings is crucial. This capability ensures that photographers can capture clear and impactful images, even in dimly lit environments.
3. Speed and Burst Mode
Photojournalists need to be able to capture fast-moving events and fleeting moments. Cameras with high-speed continuous shooting capabilities, fast autofocus systems, and minimal shutter lag enable photographers to freeze critical moments with precision and accuracy.
4. Durability and Weather Sealing
Photojournalists often work in unpredictable and demanding environments. Therefore, cameras with robust build quality, weather sealing, and resistance to dust, moisture, and extreme temperatures are vital. These features provide reliability and ensure that the camera can withstand challenging conditions.
5. Portability and Handling
Since photojournalists are constantly on the move, a camera that is lightweight, compact, and ergonomically designed is preferred. Portability allows for ease of transportation, while comfortable handling ensures that photographers can shoot for extended periods without fatigue.
You may enjoy reading Best HDR Cameras For Photography
Best Cameras for Photojournalism
Sony Alpha a9 II
The Sony Alpha a9 II is one of the best mirrorless camera systems and one that many professional photographers prefer to use because of the fantastic image quality and exceptional handling. It's a high-end sports camera with the option to fire up to 20 frames in full resolution using the silent shutter mechanism. While it is firing at full resolution, there is no viewfinder blackout which means you can keep an eye on the subject as the camera is firing the frames.
However, a silent shutter or electronic shutter is known to throw some problems like banding and artifacts. A reason why mechanical shutters are preferred. The mechanical shutter fires at 10 fps. The new higher frame rate is paired with a deeper buffer. The camera has a buffer of 133 uncompressed RAW files or 363 JPEGs, significantly improving its shooting capabilities.
There are some important ergonomic differences compared to the older a9, such as the now improved grip. Like traditional DSLR cameras, this new camera has a pronounced grip. The designers have redesigned the buttons on the new camera, and they now travel further and are more ergonomic.
Dual UHS-II card slots offer the advantage of writing images faster than the previous generation camera. The faster cards ensure faster write speed which means you can shoot more frames while the camera writes them onto the memory cards. These UHS-II cards don't have the same speed as the XQD or the CFexpress cards. But on the good side, the a9 II has a fantastic buffer, so ideally, you will not miss the fast cards.
Sony has offered enhanced weather sealing on the new camera, which means you can expose it to any weather conditions, and it would come out with flying colors.
Another neat little benefit of the new a9 II is that you can add voice messages to the individual or burst shot images. Let's say you are shooting at an event and something interesting happens. You can now keep a quick note of the development so you can later caption the image correctly. As a professional photographer looking for a professional camera body, the a9 II will impress you thanks to the small improvements over the outgoing model.
The biggest feature of this camera is the 693-point phase-detection autofocusing system. Sony has taken the original autofocusing system on the older a9 and tweaked it further to ensure that the new camera is flawless in subject tracking and focusing. This is truly a sports photographer's dream come true and is one of the best professional camera systems that you can own for photojournalism.
Canon EOS R5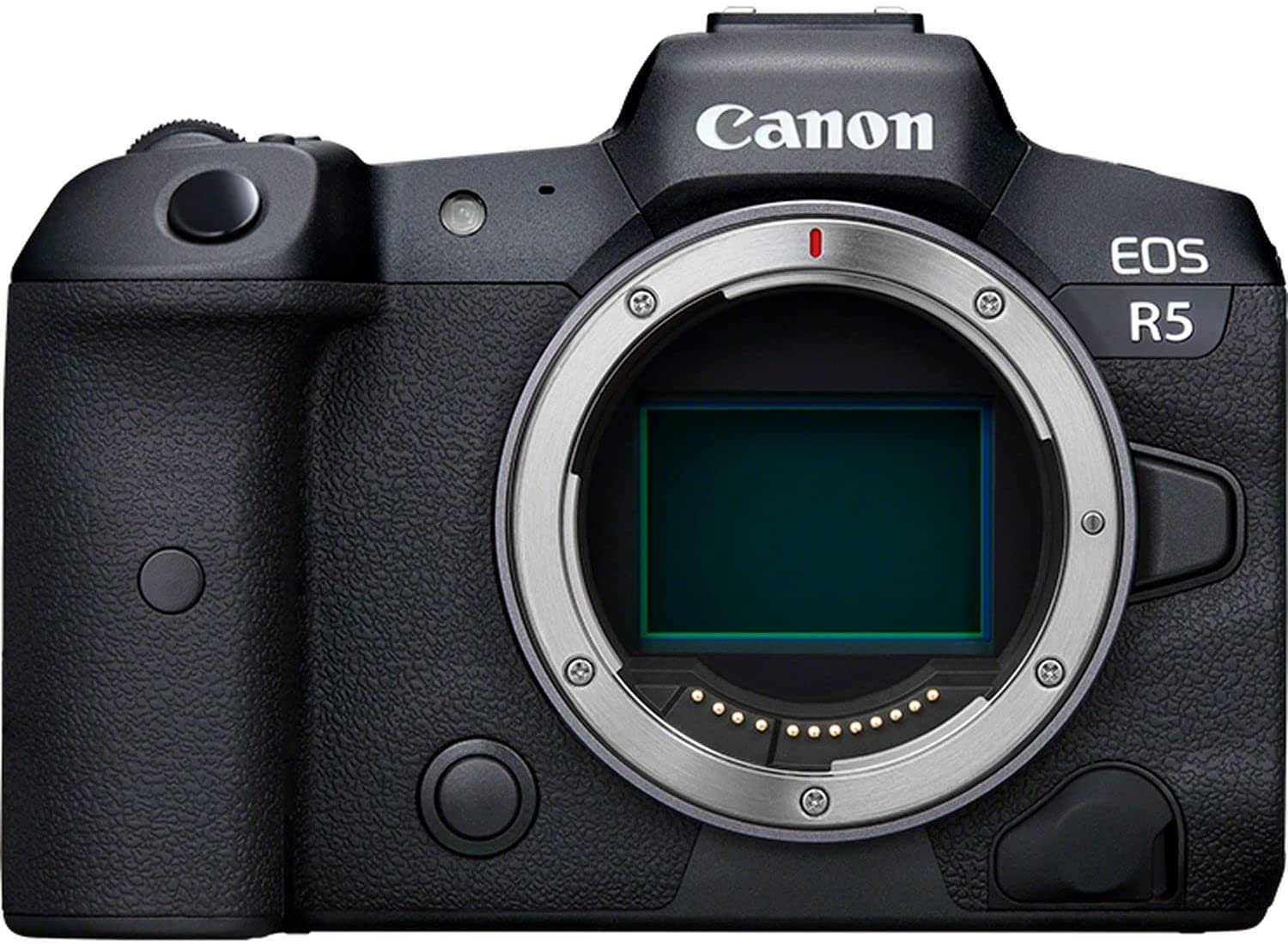 The EOS R5 is a premium mirrorless camera for shooting high-quality stills and videos. It is powered by a 45-megapixel full-frame CMOS sensor and a DIGIC X image processing engine. The camera has a built-in sensor-shift type 5-axis image stabilization system that gives steady shots when hand-holding the camera. Apart from high-quality stills, the camera also records excellent quality videos at 8K 30p RAW format and 4K 120p 10-bit internally.
The camera has a mechanical shutter that can trigger a 12 fps shutter speed capturing every action without missing anything. But the camera can also fire the electronic shutter, capturing the action at 20 fps. However, the electronic shutter will be prone to issues like banding and artifacts. Thus the mechanical shutter is in demand.
This is one of the best action cameras in the business when you consider sports and other high-speed action moments that news photographers are after. Professional photojournalists prefer a camera that is lightweight, powerful, and easy to handle. In that respect, the Canon EOS R5 is exceptional.
Autofocusing is powered by a dual-pixel CMOS AF II mechanism with 1053 AF points. This is significantly higher than the Sony Alpha a9 II discussed above.
Unlike the Alpha a9 II, the EOS R5 has a CFexpress card slot and an SD UHS-II card slot. This means a professional photographer can take advantage of the speed of the CFexpress cards. One could potentially record RAW frames on the CFexpress cards and JPEG files on the SD UHS-II cards.
We could probably write a separate feature about the video capabilities of the EOS R5 because the features are very long. But in this discussion, that would be unnecessary as photojournalists are not worried about the video quality of their camera systems. They are more concerned about things like dynamic range, ease of use, and the quality of images.
The system comes with a low-pass filter system. However, unlike traditional low-pass filters where the system employs a dual-layer mechanism that introduces a layer of softness to reduce moire. In this camera, a 16-point subsampling has been done along with a Gaussian distribution technique. The result of this mumbo-jumbo is that the EOS R5 delivers a level of sharpness that can rival some of the higher resolution cameras like the Canon EOS 5DSR.
The R5 borrows from some of the other leading camera systems in the Canon line-up. This includes the 1DX, which has lent the Deep learning AF system that helps the R5 to have such amazing autofocusing performance. Especially the exceptionally accurate eye-tracking of both humans and animals.
Another good thing about the system is the 8-stop in-body image stabilization system. It is a powerhouse and beats many other systems in the market.
Canon EOS 5D Mark IV

When we talk of good cameras for photojournalism, we cannot ignore the EOS 5 series cameras. The most important camera in this segment is the 5D Mark IV. The 5D Mark IV is the latest and the greatest in the 5D series. When it was launched, it was one of the best digital cameras in the business. It is a real workhorse and a camera that will definitely make a lot of professionals sit up and take notice. That said, just like the D850, the 5D Mark IV is a dated camera in 2022. Its technology is old, and the question is whether this camera can compete with the likes of the Sony Alpha a99 II and the EOS R5.
The 5D Mark IV comes with a 30.4-MP CMOS sensor paired with a DIGIC 6+ image processor. The camera is capable of shooting DCI/4K footage at 30 fps. There is an option to grab 8.8-MP stills from the video footage. The DIGIC 6+ image processor helps in recording 7 fps continuous shooting frames. It has a 150,000-pixel RGB+IR metering sensor to assess the scene and then dial in the accurate exposure values for correct exposure under different lighting conditions. Long story short it has a very powerful auto mode and a 7 fps frame rate that ensures that you are always ready to capture the shot when the moment presents itself.
You may enjoy reading Best Cameras for Filmmaking on a Budget
Autofocusing is powered by a 61-point high-density reticular autofocusing mechanism. All of the AF points are sensitive down to f/8, and 41 of these points are cross-type. Autofocusing performance is good and subject tracking is also decent. However, don't expect a 6-year-old technology to outperform the likes of a9 II or the R5. The camera also incorporates Canon's highly rated Dual Pixel CMOS autofocus.
One of the camera's features is a branch of this technology – Dual Pixel RAW. Dual Pixel RAW ensures that some of the camera's features, such as focus shifting and bokeh shifting, can be adjusted after the image has been taken. This is useful if any of your shots appear taken in haste and missed focus or the bokeh is out of place.
A good thing about the 5D mark IV is that the camera body is weather-sealed. Weather sealing has been applied in multiple areas to prevent moisture and dust from seeping inside. However, if you wish to take full advantage of weather sealing, you must use a weather-sealed lens body to ensure the system is completely sealed off from the elements.
Nikon Z6 II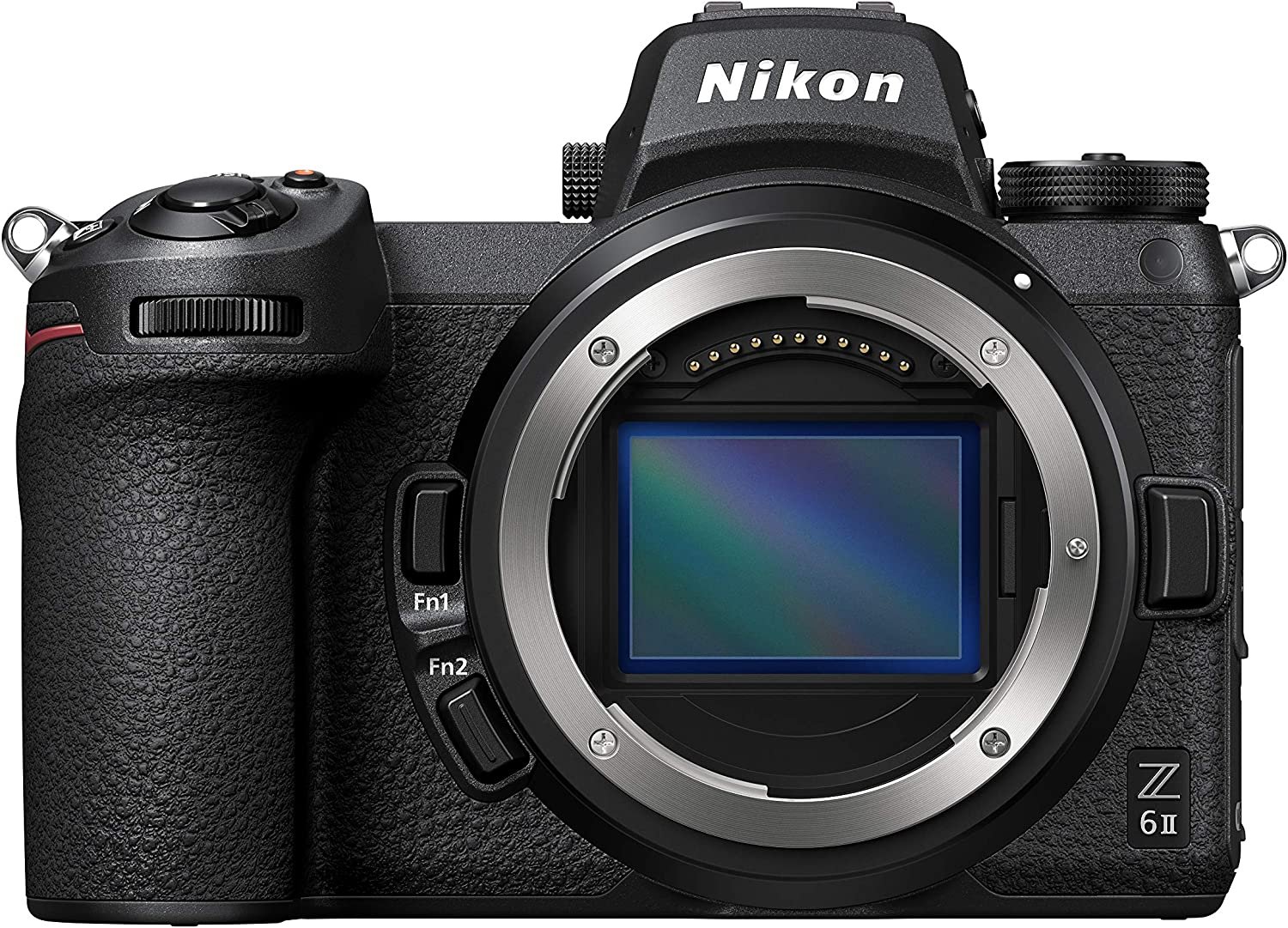 Nikon's extremely popular mirrorless cameras, the Z6 and the Z7's second generation offerings, the Z6 II and the Z7 II are wonderful cameras. Both of them are excellent options for photojournalism. However, if I chose any one camera between the two, I would pick the Z6 II. The reason is that the Z6 II, even though it is very similar to the Z7 II, comes with some critical differences. One is that the Z6 II has a better frame rate and better buffer capacity between the two cameras. The Z6 II can shoot at a 14 fps frame rate using the mechanical shutter up to 124 frames before the buffer overruns. It helps because even though Dual Expeed 6 image processors power both cameras, the Nikon Z6 II has a much lower resolution than the Z7 II.
The Z7 II, however, has some additional advantages: the lower base ISO. The Z7 II can shoot at a minimum ISO of 64 compared to the Z6 II, which can shoot at ISO 100. For any photojournalist, that is an important factor in the decision-making process. Then again, the Z7 II has a 493-point phase-detection autofocusing mechanism, whereas the Z6 II has a 273-point autofocusing mechanism. However, the two cameras show a marginal difference in autofocusing performance in real-world situations. We have noticed that the two full-frame sensor cameras perform very similarly. We can safely say that the Z6 II has the better autofocusing detection range of the two cameras. The Z7 II has a detection range of -3 to 17 EV. However the Z6 II has a detection range of -4.5 to 19 EV. So, for all practical purposes, the two cameras are very similar.
Although the Z7 II appears to be the better choice in terms of features, you also have to consider that it is the more expensive of the two cameras. Unless you need the ISO 64 capability or the increased 493-point autofocusing system, the Z6 II does everything that the Z7 II does and still has a much lower price. It saves you about a thousand dollars. You could get a decent Z-mount lens using that money. Also, you don't need more than 24 megapixels if you are a photojournalist and shooting genres like sports or street photography or news and documentary photography. Your images will not be printed more than a few columns across. And for large prints, you will never be printing more than A3. The Z6 II's 6000 x 4000 pixels are more than useful for a 20-inch by 13-inch print at 300 Dpi.
Sony A7R IIIA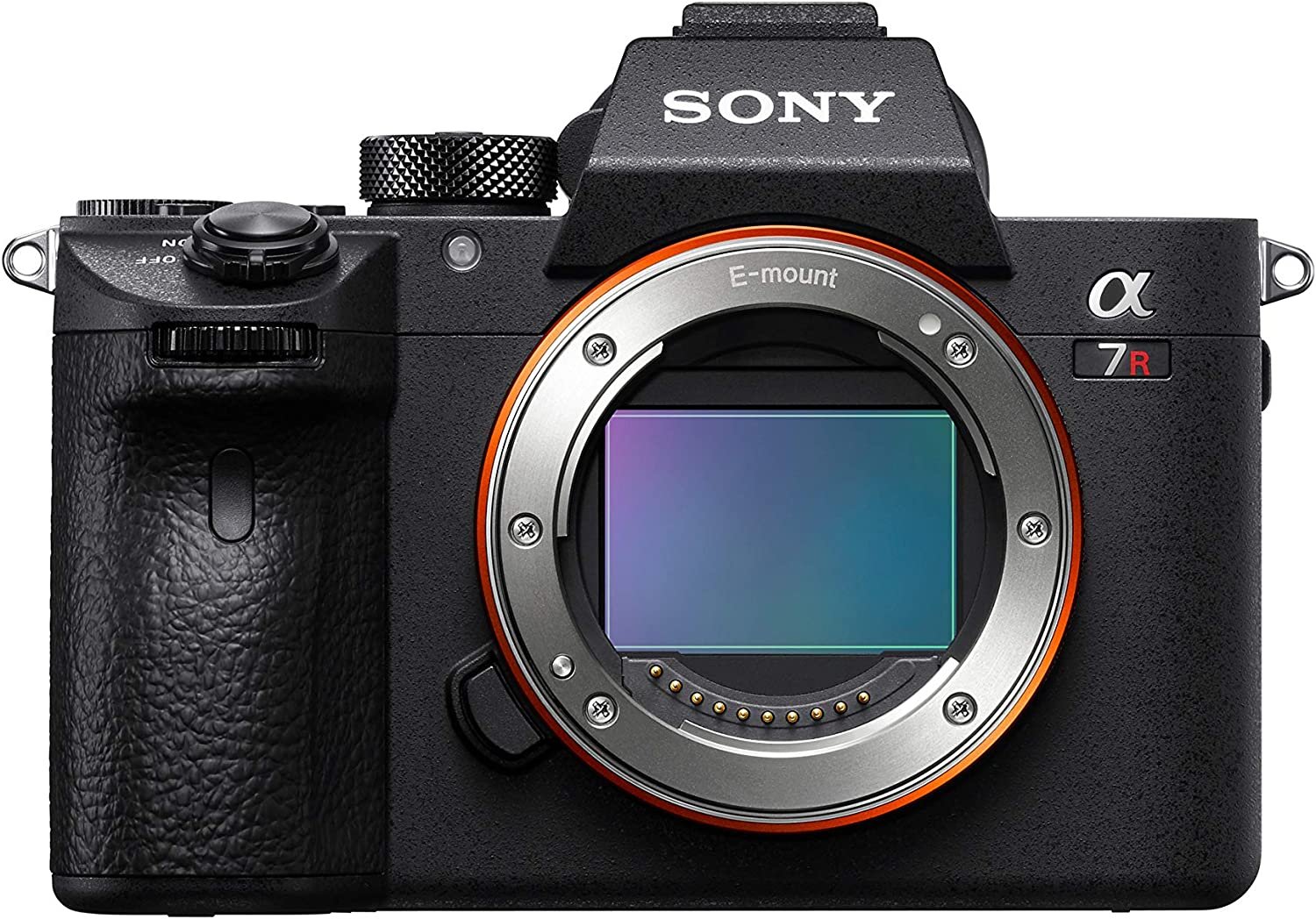 The main reasons I chose the A7R III, or as it is now called, the A7R IIIA, are the exceptional handling and the high resolution offered by the camera. There are some differences between the original A7R III and the updated A7R IIIA, but I will not go too deep into that because it is not the purpose of this discussion. A lightweight mirrorless camera sounds like the best choice for photojournalism.
The 42-megapixel sensor captures a lot of detail for photojournalistic purposes, and you can easily crop and tighten your frames without the risk of losing too much resolution in the process. But the resolution is not the only highlight of the camera. Unlike its predecessor, this camera has a better continuous shooting performance. It can shoot at a maximum frame rate of 10 fps with full autofocusing without any issues. However, the only problem is that you won't get Live updates while the camera shoots at ten fps. To get Live updates, the frames will drop to 8 fps.
Much negative feedback about the A7R II was about the ergonomics and camera handling. Compact cameras are a major issue because the real estate is smaller, and buttons and dials must be laid down, so they feel ergonomic. The A7R III has made some major improvements in that department. I love how the buttons and dials have been laid out at the back of the camera. They are a lot more ergonomic than they used to be before. The new multi-directional joystick is a major addition to the back of the camera. This allows me to change the autofocusing point, which is a big advantage for someone looking for a quick and simple composition. Someone like a photojournalist.
Many of the new features on the A7R III have been taken from the big brother, the A9, and one of those features is the rear screen, when flipped out, completely switches off the viewfinder eye sensor. This prevents the camera from switching off the display on the LCD screen when being held close to the waist for those candid moments. This is a great feature for photojournalists and those shooting candid street photography.
We also love the fact that the camera has twin card slots. However both the card slots do not support UHS-II cards. Only one does, and the other one supports the UHS-I cards. There is no option for using an XQD card. These are the faster cards and allow a faster transfer of images from the buffer to the memory cards. We think Sony missed a trick here.
Honorary mentions:
These are the camera systems that we considered while writing this article but did not include in the final list –
Nikon D850 – a fantastic allrounder with a good combination of speed, detail, and precision
Fujifilm X-T4 – an excellent option for someone looking for an APS-C camera
Sony a1 – one of best Sony camera systems for shooting almost every genre
How to choose the best camera for photojournalism:
Image quality:

Even though you'll want a decent sensor, megapixels aren't enough to make a great photojournalist. World Press Photo award-winning photographers increasingly use mirrorless cameras, which tend to have smaller sensors because of their size.

Size and weight:

When looking back at the early days of street photography and war reporting, the general rule was to go for something that was easy to carry, since you'd be more likely to carry it when breaking news occurs.

Durability:

Since the UK has unpredictable weather, weather-sealing is arguably an advantage in any situation, but wildlife and sports photography are particularly dependent on it.

Wi-Fi and Bluetooth connectivity:

Professionals can use this feature to send photos to their editors, while beginners can use it to post their images to social media quickly. You can use your phone to take pictures with many camera manufacturers' apps.

Dual card slots:

When dual card slots were introduced, they made many photographers happy, and it's not hard to understand why. The amount of memory doubles, and in some cameras you can switch between memory cards so you can shoot photos and videos simultaneously.

Silent shutter:

A journalist once said that the story should never be about them. Using a silent shutter allows you to capture raw, candid moments without interrupting them.
You may enjoy reading Best Beginner Cameras for Nature
Frequently Asked Questions
What camera do photojournalists use?
A lightweight camera capable of shooting at a high frame rate using a mechanical shutter and a reliable autofocusing performance are the prime requirements for photojournalists. Such cameras are lightweight mirrorless units and some lighter full-frame DSLR units. No single camera can be considered the right camera for the job. Individual photojournalists have individual preferences that determine the type and style of camera they prefer.
What lens do photojournalists use?
The 24-70mm and the 28-70mm are two lenses that are widely considered the best for use in photojournalism pursuits. These two lenses cover the most essential focal lengths for a wide-angle composition and for shooting short telephoto focal length-based compositions. That said, there are other lenses too that are routinely used by photojournalistic. These are the 70-200mm, the 50mm, and the 35mm primes.
Do professional photojournalists use DSLR or mirrorless?
Professionals use both mirrorless and DSLR cameras. The choice of camera depends on the kind of photography they do, the sub-genre under photojournalism (sports, current affairs, etc.), and the kind of camera they feel confident handling. It is down to personal preference.
Is weather sealing requirement for photojournalism?
Both yes and no. In most cases, photojournalists shoot in outdoor conditions, which entails that a camera that can hold itself in inclement weather is required. Good build quality is an absolute must because modern photojournalism demands that a photographer be present at the right moment at the right time to capture the best shot. To do that, a photographer often has to cut corners and take risks. Their equipment is often exposed to dangers and often gets knocked and bumped about. But not all photojournalists shoot in inclement weather. So, weather sealing is a subjective thing.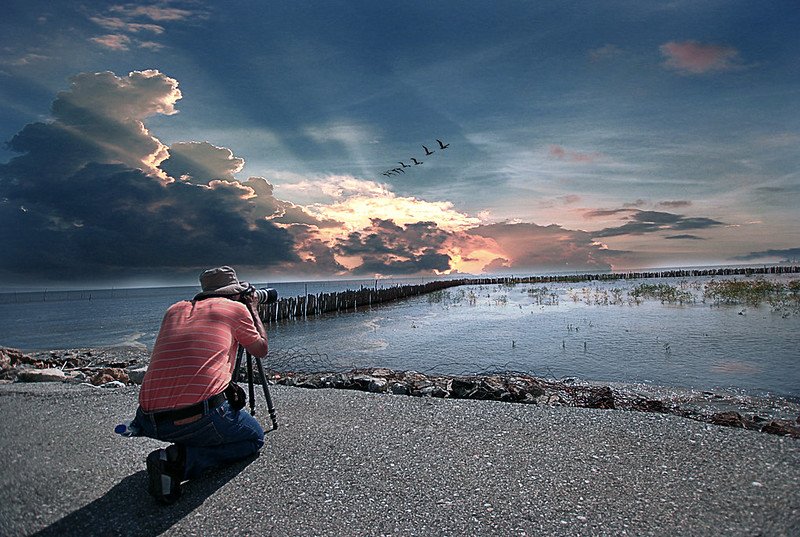 A career as a photojournalist?
Photojournalism is a fantastic and rewarding career, but it can be hard to break into. It is the combination of two words – 'photography' and 'journalism', a term that was coined by Frances Luther Mott, the then Dean of the University of Missouri, School of Journalism, in the 1940s. It was not until the 1920s that the term became more prominent as it became easier to transport camera equipment as it was less bulky, thus allowing photographers to take pictures discreetly and in a wider range of places.
Photojournalists tell stories through their cameras as opposed to a traditional reporter who tells them through words. They speak through a lens everyone can understand, the picture. One picture can tell a thousand words.
Photojournalists can most likely be found in some of the following areas;
Freelance Photographer
Newspaper Photographer
Magazine Photographer
Sports Photographer
Wildlife Photographer
Documentary Filmmaker
Stock Photographer
Video Editor
Graphic Artist
Layout Editor
Online / Website Journalist
Website Designer
What Are the benefits of a career in Photojournalism?
It can be hard to get established as a photojournalist, it is a competitive area with many people trying to make a living with a camera. However, if you can be successful it does come with many perks.
Travelling the world to interesting places
Every day is different
Photojournalists get up and close with real-life events, some life-changing.
You are not tied to a desk all-day
It is a creative industry, and you get to meet some fascinating people
Conclusion
There are many factors to consider when choosing the best camera for photojournalism. In the end, the kind of camera you should choose will depend on your needs and budget.
Therefore, DSLRs offer better image quality, as well as more control over settings such as shutter speed, aperture, ISO, and white balance than other types of cameras.
When shooting in different environments or taking photos from different distances, they also make it easy to switch lenses.
If you're looking for an affordable choice that doesn't break the bank but offers excellent performance, here are some options you might want to consider.
You may also want to consider mirrorless cameras in this case. You should ensure that the camera you choose meets all your technical requirements and still allows you to capture images worthy of a photojournalist.
You may enjoy reading Best Cameras Under $300