A good camera is one of the first things that film students need when they join a film-making course, be it in college or post-graduation. It does not have to be the best cinema camera out there as long as it does what is expected. The best filmmaking camera for beginners and students happens to be the one that offers every feature that a beginner user requires and is also good enough to last the course.
At the same time, it should be useful even when the budding filmmaker has turned pro so that it can be a useful tool at this stage too. In this discussion, we shall look at the best cameras for film students and what makes them the best choices.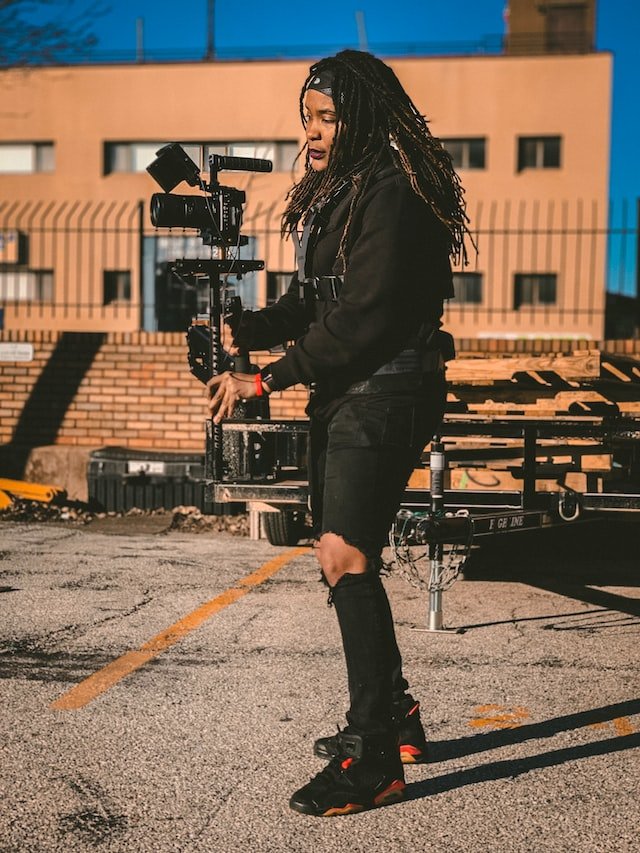 What encompasses the best camera for beginner filmmakers?
The best camera for film students combine a selection of features, including usability, performance, and durability. Throughout a filmmaking course, your equipment must go through a lot, which means it must be tough and capable of handling the odd knocks and bumps. Usability is yet another aspect. The features and functionalities of the camera must be easy to understand and handle, ensuring that the student/beginner filmmaker will find it easy to shoot with.
The features should be robust, and they should be able to offer everything that a budding filmmaker needs during the course and even after. And don't forget, students will spend a great deal of time with their camera and all the equipment so it should be comfortable to transport.
Okay, without further ado, let's get started.
If you are short on time our top two recommendations from this list are the Blackmagic as our top pick, followed by the Panasonic GH5 mark II.
8 cameras for film students Table
8 Best Cameras for Film Students in 2023 detailed review
Nikon Z50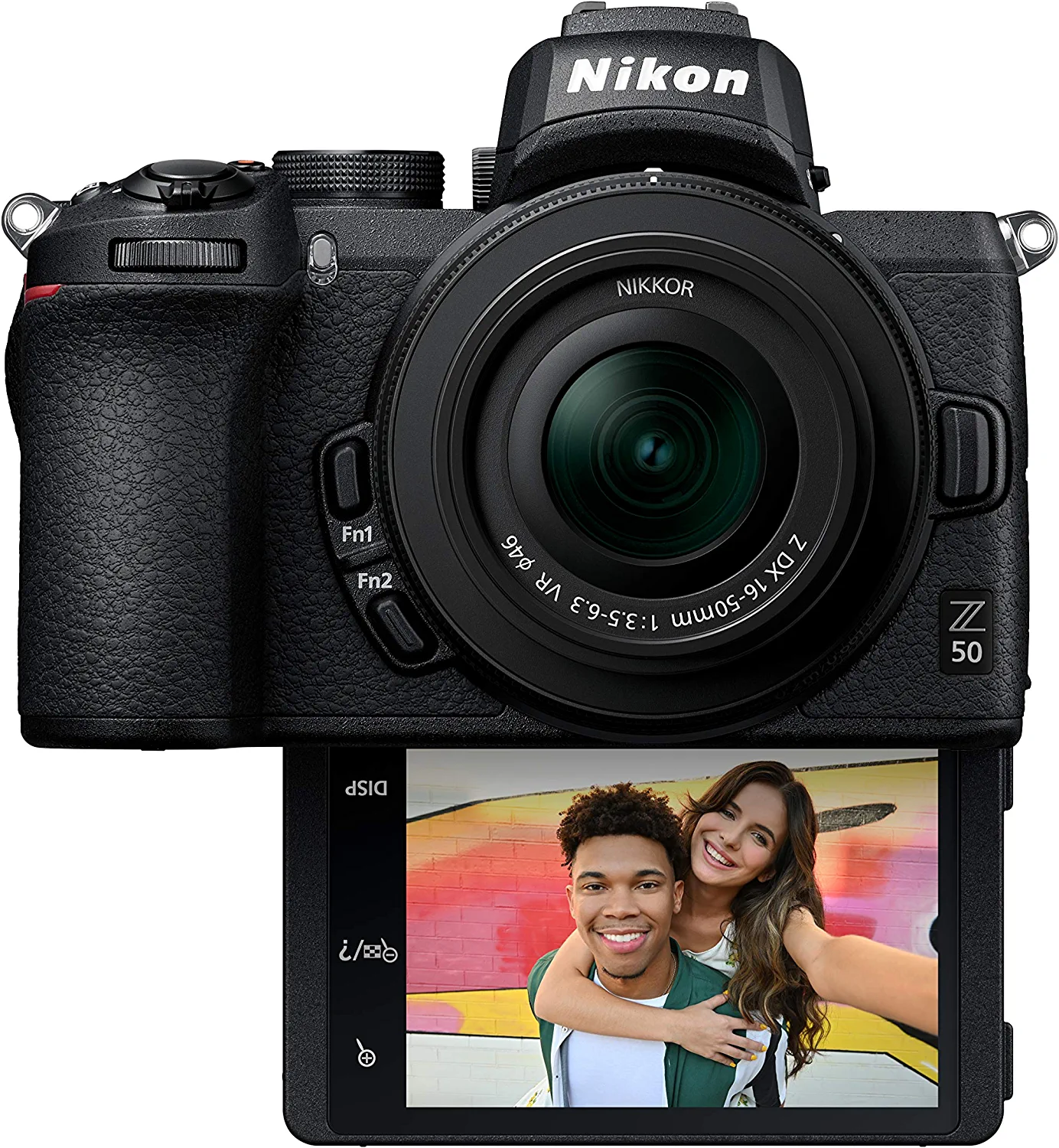 First up is the Nikon Z50, which is a mirrorless camera. The Nikon Z50 is one of the most affordable filmmaking cameras you can use as a beginner filmmaker. These days DSLRs and mirrorless cameras have been bestowed with advanced video-making capabilities. This makes these cameras one of the best for beginner filmmakers looking for something powerful yet reasonably priced. The Z50 fits that profile perfectly. Priced at less than $1000, along with a 16-50mm standard zoom lens, you have a powerful tool in every right and in the right price range.
The first thing everyone looks for is the image quality (ok, not everyone). But we'll come to that shortly. The Nikon Z50 is powered by a 20.9-MP APS-C CMOS sensor paired with an EXPEED 6 image processor.
Let's consider the camera's exceptional video quality. You get 4K UHD at a maximum frame rate of 30 fps. The camera uses the full width of the sensor for recording 4K videos.
There is no cinematic 4K, so the extended aspect ratio is missing. But then you have to understand that this is a budget camera aimed primarily at still shooting with some additional features for shooting videos. Full HD videos can be recorded at a maximum frame rate of 120fps. At that frame, you can work your slow-motion B-rolls and make amazing sequences that add to the aesthetics of the overall film.
I love the autofocusing functionality of the camera. It is snappy and locks on every time without fail. There is the Single point mode, the Wide (S), Wide (L), and the Auto-area modes. In the Auto-area mode, you also get Face tracking.
There is a built-in time-lapse feature on this camera. You can shoot a time-lapse, and the camera will automatically render a 4K/UHD video of the time-lapse in camera for you. This is a useful feature when shooting these B-rolls for short films or full-length feature films.
The built-in ISO range of the camera is 100-51200. The camera can work within a wide spectrum of color conditions and shoot interesting images and videos.
One of the stand-out features of the Z50 is that it is a weather-sealed unit. That means you can take this camera with you and shoot in inclement weather without any issues.
That said, it needs to be mentioned that the Z50 does not have built-in image stabilization. You get stabilization during video mode, but that is digital stabilization only. That means you have to get an image-stabilized lens to ensure that the lens can shoot with optical stabilization. Speaking of which, the Z50 is compatible with many of the older legacy lenses. So if you have an image-stabilized Nikkor lens that you want to use, you can do so with the Nikon Z50.
Nikon Z6 II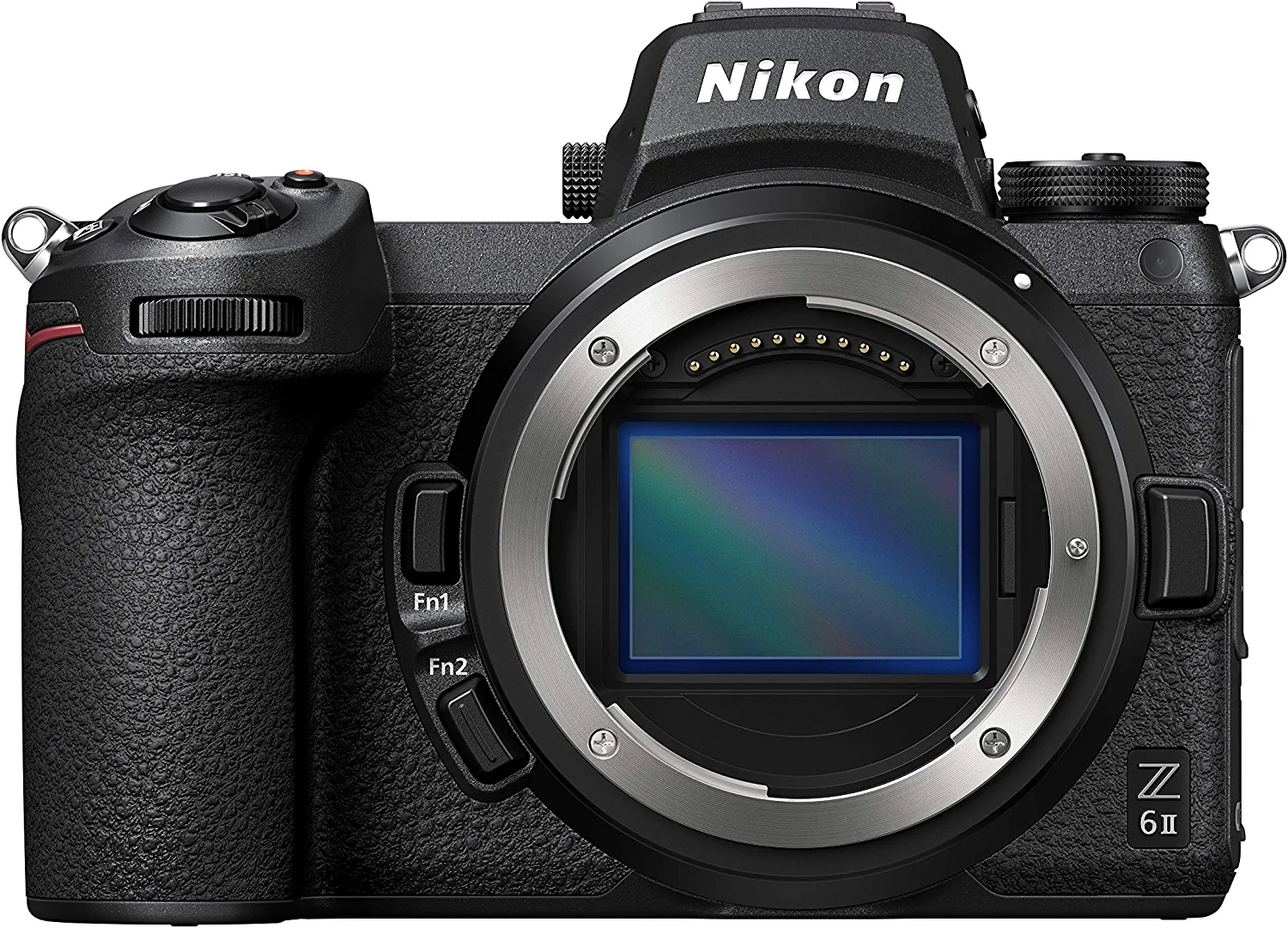 The Nikon Z6 II is a formidable camera in the right hands. Powered by a 24.5-MP FX-format BSI CMOS sensor and paired with a Dual EXPEED 6 image processor, this camera comes with a list of features that are tailor-made for shooting videos. Let's go through the features.
The back-illuminated sensor ensures that the stills and the video footages are clean even when working in very high ISO numbers such as 25600.
Internally the camera can record 8-bit 4:2:0 sampling of UHD 4K videos at a maximum frame rate of 30 fps. The camera does a full-pixel readout for shooting 4K/UHD video recording.
There are some advanced features in the camera, including N-Log gamma, to get that flat profile when shooting videos. This ensures that the camera can capture a larger dynamic range. Additionally, the camera is capable of capturing HDR-ready footage.
You can use an external recorder. The camera can record at 4:2:2 10-Bit using an HDMI cable to an external recorder. Full HD videos can be recorded at a maximum frame rate of 120 fps. This allows you to shoot videos at a higher frame rate and then play them back at super slow-motion speeds, which works as cinematic slow motion B-rolls or for special scenes which can be used in your production.
The Z6 II's autofocusing is very powerful when shooting videos as well as when shooting stills. Reliability and subject tracking are two things that define how good autofocusing is in real life, and in that regard, the Z6 II does not disappoint.
Panasonic Lumix GH5 II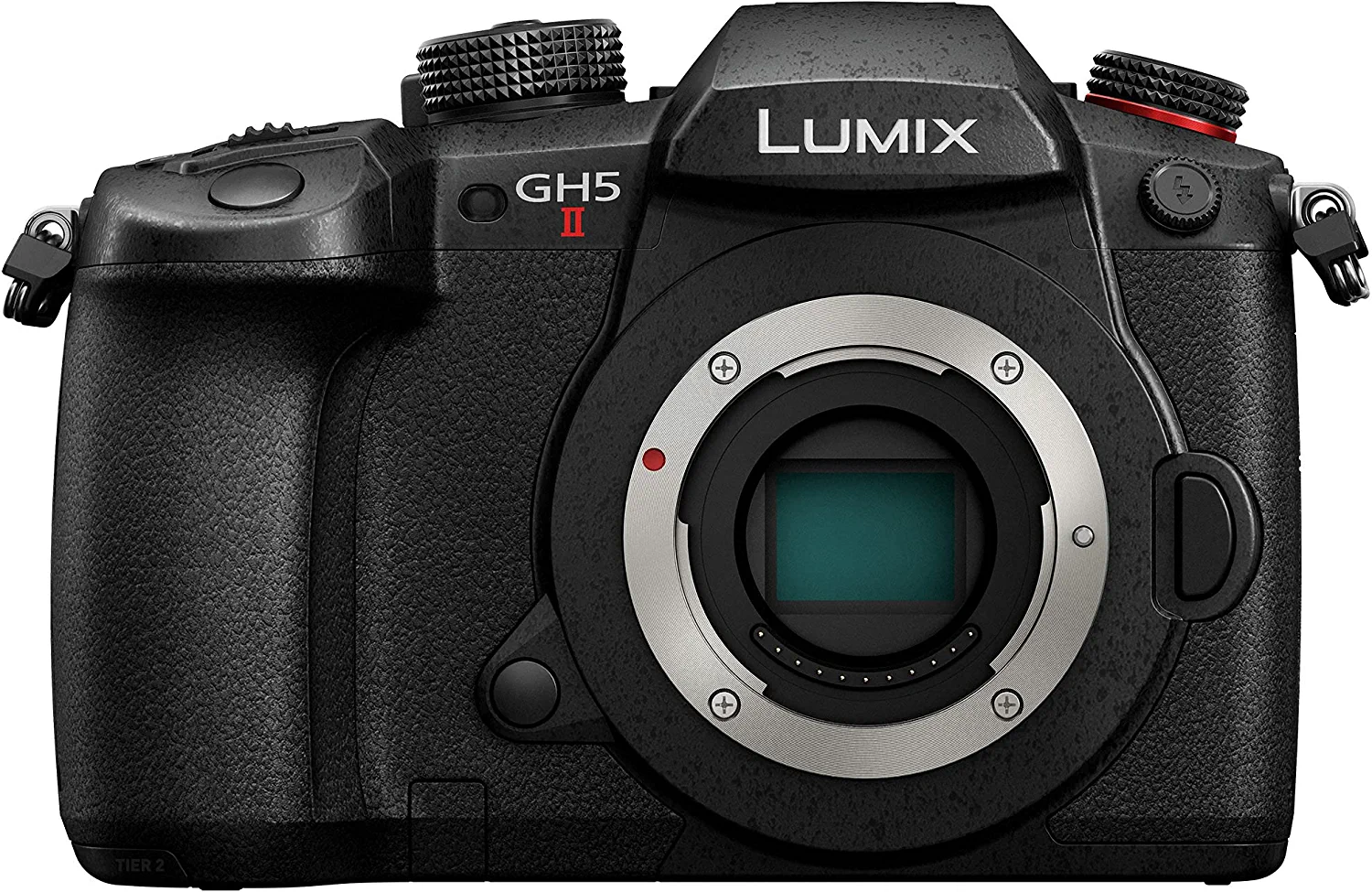 Videographers have always revered Panasonic GHX series cameras. The GH4 has a cult following; in that sense, the GH5 does not disappoint either.
Though I must add that the Panasonic GH 5 II comes with a mid-range price tag, you can choose between several configurations, including base, audio kit, and accessories kit, according to your requirement.
The Panasonic Lumix GH5 comes with a 20.3-MP Digital Live MOS sensor. This is a micro four-thirds sensor. A Venus Engine image processor is paired with the sensor for handling low light and fast action situations.
This powerful camera can output 10-bit 4:2:0 internally using the SD card up to 60p or 4:2:2 at 30p. The sensor can record DCI/4K and UHD using the entire real estate of the sensor.
10-Bit allows you a greater degree of flexibility when editing your videos in post-processing. You can now record unlimited videos using the camera and are limited only to the space available on the memory card.
You also get V-Log L. This allows the camera to match the profile shot by other Panasonic cameras. Especially those that don't have the dynamic range of the GH5 II and its color profile.
A built-in stereo mic has also been provided, which records decent-quality audio. Alternatively, you can also use an external stereo mic via the 3.5mm TRS stereo mic input to ensure that your audio recorded is crisp and noiseless.
I didn't like that Panasonic has provided dual SD card slots, which are UHS-II compliant. For some queer reasons, they have not provided an XQD card slot. This is the same as in the older Mark I camera.
The built-in image stabilization system known as the Dual I.S. 2 system combines the image stabilization system of the sensor-shift mechanism of the camera and combines that with lens-based image stabilization. This new image stabilization system has been rated at 6.5 stops and does an impressive job of stabilizing a range of movements during video shooting.
For those who want to keep a backup of the files while shooting videos, the GH5 II can output 4:2:2 10-bit using an HDMI connection while recording 4K 60p 4:2:0 10-bit internally.
Fujifilm XT-4
A 26.1-MP BSI CMOS APS-C sensor powers the XT-4. Paired with it is an X-Processor 4 image processing engine. The camera can fire DCI/4K videos at 60 fps and full-HD videos at 240 fps. Thus, you can shoot at a higher frame rate for those superb slow-motion effects and playback the videos at a normal frame rate.
The camera has a base ISO of 160 that goes to 12800. The fact that the camera sensor is a BSI design means it has much better low-light performance than cameras without such a sensor.
One of the key differences between the older XT-3 and the new XT-4 is that the video mode now comes with image stabilization. The 5-axis sensor-shift image stabilization ensures that the camera can capture steady footage while walking and shooting.
The randomized pixel array of the XT-4 resembles the organic nature of the film and produces more nuanced colors. The optical low pass filter has been omitted. But instead of leading to moire and false colors, the randomized pixel array ensures that moire and aliasing are more suppressed.
XT-4 comes with the F-Log Gamma for capturing a flat look with your clips. This gives you maximum leverage when color-grading your scenes and getting the most out of the camera's dynamic range. There is a whole lot that you can do with clips generated by this cinema camera.
Along with it, the camera comes with a 3.5mm microphone input jack for recording via an external audio mic. You also get a 2.5mm remote port with a headphone adapter for additional accessories.
The system comes with dual SD memory card slots. There are no options to plug in faster XQD or CFexpress cards, which means you lose out on speed.
A dedicated video and stills switch ensures that you can have separate settings for each shooting mode. You don't have to change anything when changing the shooting mode; that is a huge time saver.
Canon EOS R 7
The Canon EOS R 7 is a powerful still shooter, which is the camera's primary role. However, it also has some interesting video features, making it worth the while to look at the camera and its suitability for shooting videos.
First things first. The EOS R7 is powered by a 32.5-MP APS-C CMOS sensor paired with a DIGIC X image processor. The highly powerful image processor lets the camera record high-resolution video at a higher frame rate. The native ISO range of the camera is 100-31200. It can be further expanded up to 51200.
The camera can capture 4K videos at a maximum frame rate of 60p while using the full width of the sensor real estate. When oversampled with a larger 7K area, the frame rate drops to 30p. 7K oversampled footages show fewer issues of moire and false colors. Full HD videos are captured at a frame rate of 120fps. The Canon camera comes with Log 3 for better management of color, contrast, and dynamic range post-processing your footage. You also get 10-bit sampling with that.
You can also output clean footage via an HDMI cable. The camera supports clean 4K output at 60fps.
One of the good things about the EOS R7 is that it features a microphone and a headphone port. That means you can use an external mic to record crisp audio and monitor what's happening using the audio port.
The camera features a five-axis sensor shift-type image stabilization system. This image stabilization system works in tandem with a lens-based image stabilization system that delivers up to 8 stops of image stabilization.
One of the salient features of the camera is its good weather-resistant design. This camera can survive a drizzle or bad weather if you plan to shoot in such weather conditions.
Blackmagic Pocket Cinema Camera
The Blackmagic Pocket Cinema Camera is a great tool for bidding filmmakers and amateurs looking for a camera that can last an entire filmmaking course and even more. The camera is powered by a 4/3-inch HDR sensor and can shoot high-quality videos. The camera captures DCI / 4K videos at a maximum frame rate of 75 fps. It can handle several ProRes codecs. Additionally, since the 6.6 firmware update, the camera can shoot 2.8K RAW mode in the 4:3 anamorphic. It can also shoot widescreen in 2.4:1 in 4K RAW. The camera has a 2x de-squeeze option for previewing and a 1.33x de-squeeze option to preview the footage.
This is by far one of the best cameras when it comes to connectivity and ports. There is a full-sized HDMI port which is much better than some of the small and mini HDMI ports I have seen. Plus, there is a USB-C port for transferring videos and supporting charging. There are two 3.5mm ports, one for recording audio and the other for monitoring the audio.
The camera also has a DC connector port that allows it to be charged while recording videos. The type-C charging port is slow and won't allow simultaneous recording.
The Blackmagic Pocket Cinema camera's rear LCD screen is one of the best in the business. If not the best. Even in bright sunlight, the rear LCD screen can be easily viewed, making it easy to review what's being recorded. It certainly helps that the screen is large and has a full HD 1920 x 1080 resolution. Plus, the 16:9 aspect ratio ensures you don't have to get yourself an external monitor for shooting and reviewing the videos.
The camera offers a range of controls, including a Zebra highlights indicator, focus peaking to nail manual focusing, an option to choose a shutter angle, and excellent touch controls to round things up. Among the things that are missing is image stabilization. As this is an M43 mount, therefore there is a bunch of compatible glass that you can use with it. Make sure you choose a lens that is image stabilized so that you can stabilize the footage. Or use a tripod.
A standard tripod thread mount ensures ease of use with a tripod. Speaking of the tripod mount, there is a second mount right where the standard hot shoe might be on other cameras. I believe this is to mount an external screen or use an LED light to shoot videos.
The Blackmagic Pocket Cinema Camera is fantastic for many reasons, but it has a steep learning curve. This is a great camera for beginner filmmakers looking for a camera that can outlast their course. However, they are ready to sweat it out and learn the nooks and corners of this camera.
Panasonic Lumix S5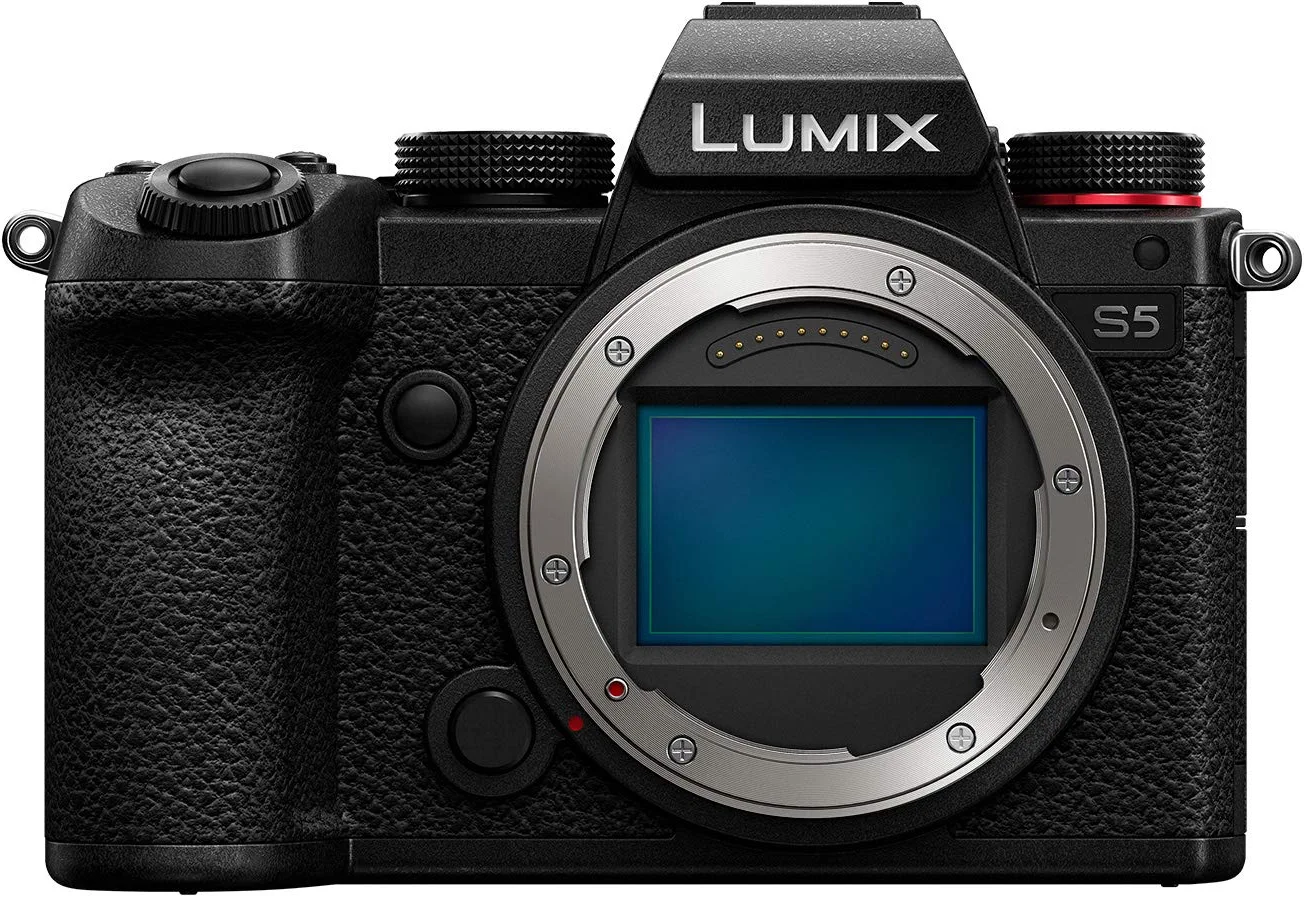 Many professional digital cameras are available at a mid-range price point and offer exceptional video quality. The Panasonic Lumix S5 is one of those cameras. Here we will take a closer look at this camera body and what it can do in video shooting.
Powering the camera is a 24.2-MP CMOS full-frame sensor. This camera is capable of recording 4:2:2 10-bit UHD/4K internally at 30p. Using an APS-C crop area, the camera can record UHD/4K 60p and a 4:2:0 10-bit color. Apart from that, the camera can record full HD at 60 fps. A full-HD recording is possible at 180 fps, letting the camera shoot at a higher frame rate and then play it back using normal playback speed for slow-motion effects. The camera is also able to record anamorphic videos.
Another major advantage of this camera is the Dual Native ISO. This gives the camera extra stops of dynamic range, especially when working at a higher ISO. Two dedicated circuits have been provided. One offers a base ISO of 100 for everyday normal shooting situations. When V-log is applied, the camera can use ISO 640; when HLG is applied, the camera shoots at ISO 400; when Cinelike D2 and V2 are applied, ISO 200 is used. The upper circuit for low-light situations has a base ISO of 640 for everyday shooting. When V-log is applied, the camera fires ISO 4000. When HLG is applied, the camera fires ISO 2500, and when Cinelike D2/V2 is applied, the camera fires ISO 1250.
The camera comes with a pair of gamma settings to assist in capturing high dynamic range. V-log has been provided pre-installed for shooting with a lower contrast for greater leverage when color grading and post-production of the videos. V-log capturing offers up to 14 stops of dynamic range. That's an incredible advantage for someone shooting videos with this camera.
Canon EOS Rebel SL3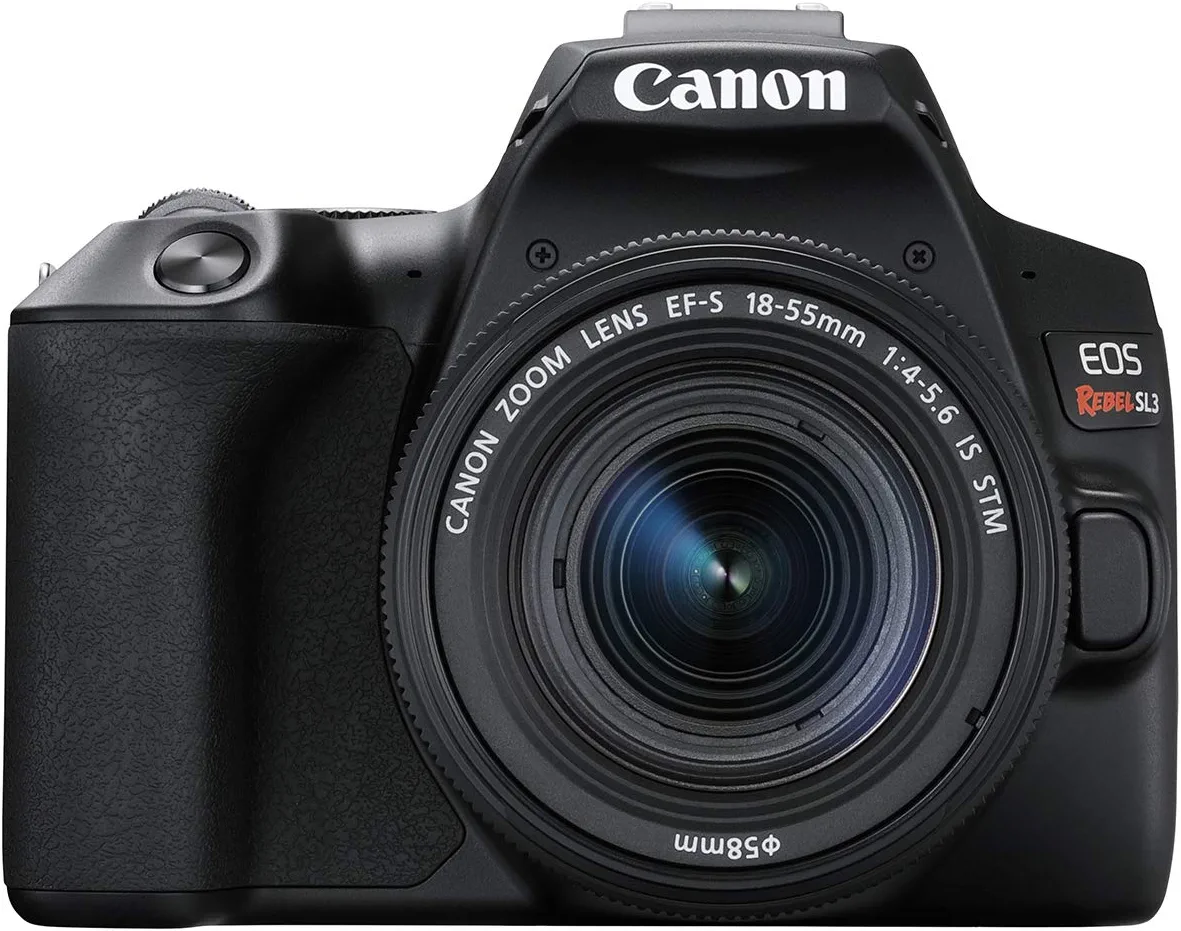 We have talked about the best mirrorless cameras for filmmaking. Let's switch our focus to DSLRs. Let's start with an entry-level DSLR that also shoots excellent 4K videos – the Canon EOS Rebel SL3, also known as the EOS 250D.
The SL3 is powered by a 24.1-MP APS-C CMOS sensor paired with a DIGIC 8 image processor. The base ISO of the camera is 100 and reaches as high as 25600. The camera can work in several lighting situations and capture beautiful stills and videos.
The camera can record UDH/4K videos at a maximum frame rate of 24p. Along with that, the camera is also capable of capturing 4K time-lapse movies. There is a dedicated time-lapse mode that allows you to do that.
The EOS SL3 is a proper DSLR, meaning there are many features attributable to that DSLR build. One of them is a chunkier hand grip and the benefit of that. Despite being a DSLR, the SL23 weighs a lot less than professional DSLRs, which means you can lug it around and shoot videos with it for an entire day without feeling the weight. Strap on an 18-35mm or a pancake lens like the 24mm prime, and you have an excellent setup for shooting videos.
Dual-pixel CMOS autofocusing ensures that the camera can shoot videos in live-view mode with excellent autofocusing thanks to the dual-pixel CMOS autofocusing technology. This technology works in tandem with the STM lenses, which have a slightly slower yet smoother autofocusing motor. Despite the demure look and the lack of big features such as Log, 10-bit output, etc., the EOS SL3 is a decent camera for shooting videos. The articulating screen does help and especially when shooting from acute angles like low on the ground and high up over the head of the crowd.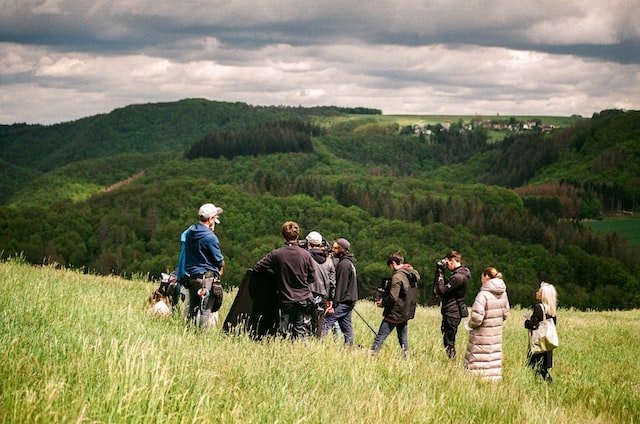 Factors to Consider when Choosing a Camera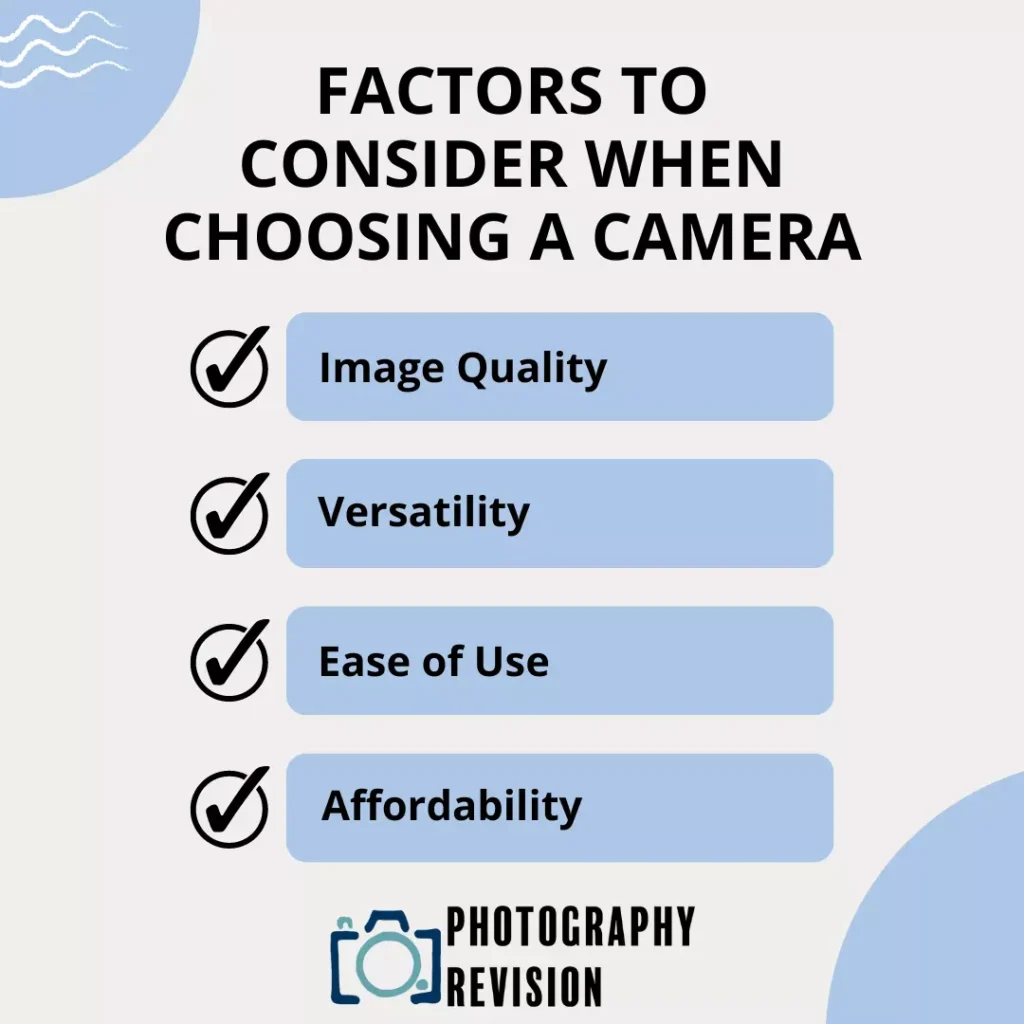 Before diving into the specific camera options, it's important to understand the key factors to consider when making your selection. These factors include:
Image Quality
One of the crucial aspects of a camera is its image quality. Look for cameras that offer high-resolution capabilities and the ability to capture rich details and vibrant colors. This ensures that your films will look visually stunning and professional.
Versatility
Film students often need cameras that can adapt to various shooting situations. Consider cameras with interchangeable lenses, adjustable settings, and different shooting modes. Versatility allows you to experiment with different styles and techniques, expanding your creative possibilities.
Ease of Use
As a student, you want a camera that is user-friendly and intuitive. Look for cameras with well-designed interfaces, easy-to-navigate menus, and straightforward controls. This will enable you to focus more on your creative process and less on technicalities.
Affordability
Budget plays a crucial role for many film students. Look for cameras that offer a good balance between price and performance. There are excellent options available that provide exceptional quality without breaking the bank.
You may enjoy reading Best Cameras for filmmaking on a budget
Accessories to Enhance Your Filmmaking Experience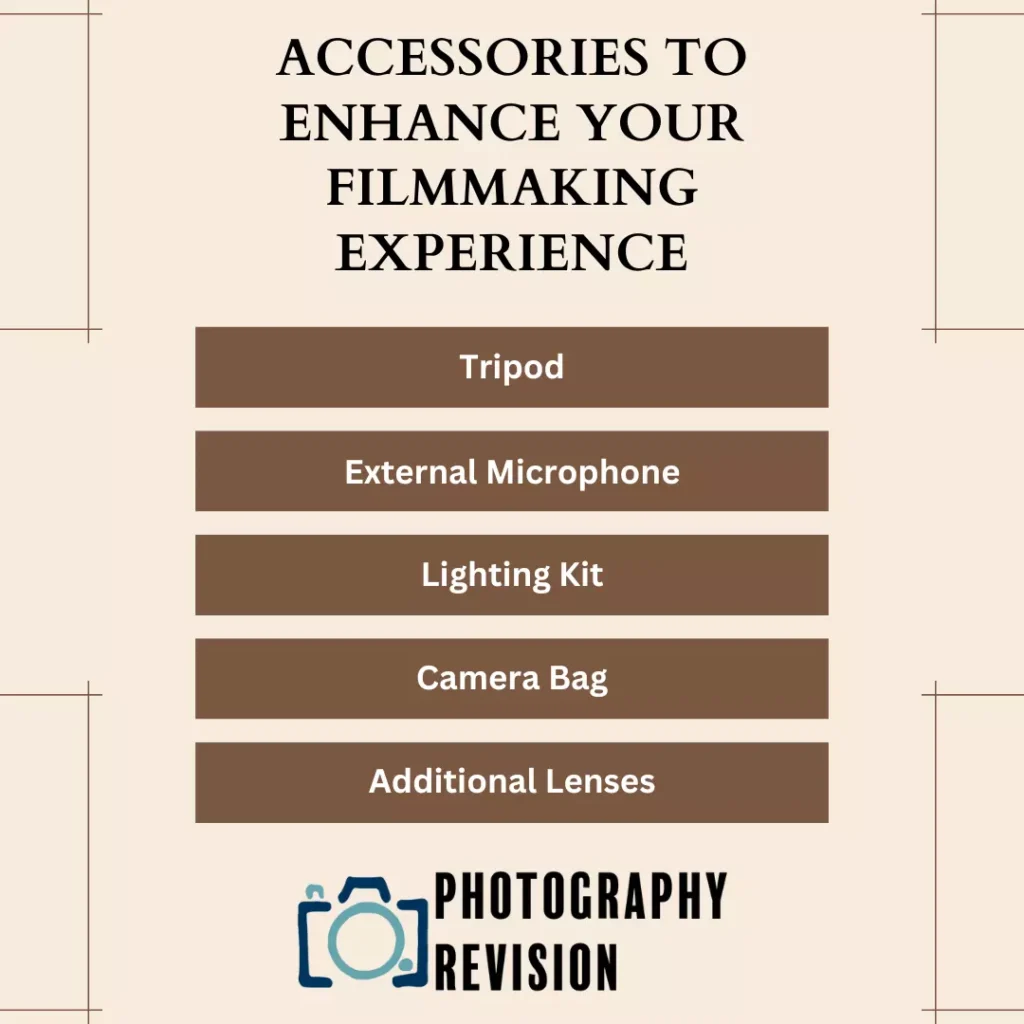 To elevate your filmmaking experience, consider investing in various accessories that complement your chosen camera. Here are some essential accessories for film students:
Tripod
A tripod provides stability and allows for steady shots, especially when filming scenes that require longer exposure or precise composition.
External Microphone
For better audio quality, an external microphone is essential. It helps capture clear and professional sound, reducing background noise and enhancing dialogue.
Lighting Kit
Proper lighting is crucial for creating visually appealing footage. Invest in a lighting kit that includes softboxes, umbrellas, or LED panels to control and shape the light according to your scene's requirements.
Camera Bag
Protect your camera and accessories with a reliable camera bag. Look for one that offers ample padding, compartments, and easy accessibility for your gear.
Additional Lenses
Expand your creative possibilities with additional lenses. Consider investing in a wide-angle lens for capturing expansive scenes or a prime lens for achieving a shallow depth of field.
You may enjoy reading Best Cameras Under $400
Tips for Getting the Most Out of Your Camera
To make the most of your chosen camera, here are some tips to enhance your filmmaking experience:
Familiarize Yourself with the Camera: Take the time to understand the camera's features, settings, and controls. Experiment with different modes and functions to gain confidence and improve your skills.
Practice Proper Composition: Learn about the rule of thirds, framing, and leading lines to compose visually appealing shots. Experiment with different angles and perspectives to add depth and interest to your footage.
Utilize Manual Settings: While automatic modes are convenient, learning to use manual settings allows for more creative control. Adjusting aperture, shutter speed, and ISO can drastically impact the look and feel of your footage.
Experiment with Different Techniques: Explore various filmmaking techniques such as time-lapse, slow-motion, or panning shots. These techniques can add visual interest and creativity to your films.
Edit Your Footage: Post-production is a crucial step in filmmaking. Use video editing software to refine your footage, add transitions, incorporate music, and enhance the overall visual quality of your film.
You may enjoy reading Best Cameras for Photographing Artwork
FAQs
What is the ideal camera for a film student on a tight budget?
For film students on a tight budget, the Panasonic Lumix G7 and Canon EOS Rebel T7 are excellent options. These cameras offer impressive performance at an affordable price point.
Can I use a smartphone for filmmaking as a film student?
Absolutely! Smartphones have advanced camera capabilities and can produce high-quality video footage. The iPhone 12 Pro and Google Pixel 5 are known for their exceptional camera systems and are popular choices among film students.
What accessories should I consider purchasing as a film student?
Some essential accessories for film students include a tripod for stability, an external microphone for improved audio quality, a lighting kit for proper illumination, and a camera bag for gear protection.
Should I focus more on image quality or versatility when choosing a camera?
Both image quality and versatility are important factors to consider. Look for a camera that strikes a balance between the two, allowing you to capture high-quality footage while offering flexibility for various shooting situations.
How can I enhance my filmmaking skills as a film student?
To enhance your filmmaking skills, practice using your camera regularly, experiment with different techniques and compositions, study the work of other filmmakers for inspiration, and continually challenge yourself to push creative boundaries.
Final thoughts
We have looked at several cinema cameras in this discussion. All of these are interchangeable lenses powered cameras. Most of these are powered by APS-C sensor-based cameras, while some are full-frame. We have also included micro four thirds powered cameras as well.
The majority of these cameras are mirrorless units with one DSLR option included in the form of the Canon EOS Rebel SL3 as well. We have tried to keep the price point under $2000, so that beginner filmmakers and amateurs looking for a camera that shoots great videos can invest in one without feeling the price pinch.
Most of these cameras come with a decent sensor size and, with it great video capabilities. We are particularly proud of the Blackmagic design pocket cinema camera, which we feel is an excellent investment for someone interested in pursuing a filmmaking course and for someone looking to shoot feature films or short films with it.
Hopefully, you will find this list helpful. Which one would you prefer to pick for your filmmaking pursuits? In any case, if you feel that we have missed including some really good cameras in this list, do drop us a line, and we'll make sure to add that camera.