Let's be clear, the best cameras under $400 is a category that is very crowded with lots of reviews, views and news! The team at Photography Revision has been wanting to write a review on this area of the camera market for a while given the amount of questions we get from our readers. So here it is!
All reviews have been conducted by the team here as we want to give you honest feedback on our experiences. Our ethos here is Photography is about getting involved whether you have the most expensive digital camera in the market or a simple camera phone.
In this article, we look at great value beginner cameras on a smaller budget. There are so many brands out there who have hundreds of different cameras and features that can, at times, make it hard to cut through this noise and work out what is the most appropriate camera for you. We hope this list below will go some way to help you with a great choice of cameras in the price range of under $400. Whether you want a proper DSLR-like feel or you are looking for something small and portable like bridge cameras, this list of top cameras under $400 has you covered.
Let's get started!
At this price point, we didn't have the option to include any of the best APS-C sensor powered DSLRs or the best mirrorless cameras. We will do a separate discussion on these camera systems.
If you are short on time and want to know our top two picks, we rate the Canon PowerShot SX740 HS as the best all round option in this category and the Canon EOS Rebel T7 as the best starter camera for those starting their photography adventures.
Best Cameras Under $400
The Panasonic Lumix DC-FZ80 (amazon link) is a compact bridge camera. It's designed like a DSLR but has a fixed lens and works the same way as a compact point-and-shoot camera. The fixed lens offers 60x optical zoom. The 60x optical zoom gives it a 35mm format equivalent focal length of 20-1200mm. That's superzoom in layman's terms.
You can use the DC-FZ80 to capture close-up shots of the moon and its craters on a clear night with incredible detail that will make a professional photographer yielding a DSLR go green with envy.
A few words about the lens technologies used. The lens features power Optical Image Stabilization (OIS), which is incredibly handy when shooting fully zoomed in. The lens's construction includes six aspherical elements and three extra-low dispersion elements, ensuring that the lens can suppress the effects of spherical aberrations (color fringing) rather well.
Under the hood, the camera is powered by an 18.1-MP 1/2.3-inch MOS BSI sensor. This is a small sensor; therefore, there cannot be any comparison with a DSLR. Low light performance is decent, thanks to the BSI technology that powers the sensor. ISO sensitivity of the sensor is 80-3200 (expands to 6400).
The camera's highlight is its 4K/UHD video recording at 30fps. 4K still shooting is available when you're in the still mode, allowing you to shoot 8-MP images at 30 fps. It also shoots full HD videos at 60 fps. Slow motion options at 720p HD 120 fps and 480p at 240 fps are also available.
Another cool feature of the camera is Post Focus. It allows you to choose your focus point after taking the image. This pretty much means you never miss focus on a shot because you can always correct the focusing point after the image has been taken.
This is a great camera if you are looking for a superzoom focal length in a reasonable budget.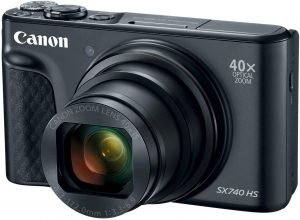 Compact cameras (point and shoots) are sleek, functional designs and known for their ease of use. However, the advent of smartphones has seen a drop in their sales numbers. But they're still pretty good cameras, and with a sensor that's bigger than a smartphone and an optical zoom lens is a better camera system than your smartphone.
The SX740 HS  is powered by a 20.3-MP CMOS sensor and paired with Canon's DIGIC 8 image processor.
The 40x optical zoom of the lens gives a reach that's equivalent to 24 to 960mm in the 35mm format. Although not as long as the 60x zoom of the Lumix DC-FZ80 discussed above, the zoom on the SX740 HS is still handy and still counts as super-telephoto.
The lens features optical image stabilization that allows you to shoot steady footage and stills while hand holding the camera and when fully zoomed in.
The camera features 4K/UHD video at 30 fps and full HD video at 60fps. It's also capable of shooting 720p HD at 60 fps. The video quality is decent.
An important feature has been bundled in the camera that ensures easier framing and subject tracking – Zoom Framing Assistant. Once you've identified your subject, you can quickly zoom out and return to get a tight shot.
Another exciting feature of the camera is the built-in 4K time-lapse recording.
The camera is equipped with both Bluetooth and Wi-Fi connectivity. You can pair your smartphone and control some features, transfer your videos and photos, and do quick edits as required.
Unlike the fixed LCD screen of the DC-FZ80, the SX740 HS has a tilting LCD screen that tilts up to 180 degrees. It's great for shooting selfies.
The SX740 HS wins the title as the best option compact camera under $400 in our view.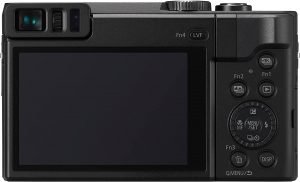 The Panasonic Lumix DC-ZS70  is a compact point-and-shoot camera with a fixed lens. Under the hood is a 1/2.3-inch MOS Sensor that churns out a 20.3-MP resolution. The base ISO range of the camera is 80-3200, but it can be extended to 6400.
The fixed Leica lens has an optical zoom range of 24-720mm. Compared to the 60x zoom (20-1200mm on 35mm format) of the DC-FZ80, this one only has half the zoom capacity.
The lens's construction includes five double-sided aspherical elements to ensure that the lens's optical performance is excellent and chromatic aberrations are suppressed.
Let's discuss a few more features of the lens. It features a 5-axis Hybrid Optical Image Stabilization system.
Another thing about the lens is that it has this unique Level Shot function that automatically stabilizes tilted horizon lines and ensures that they're perfectly horizontal in your shot. This unique feature benefits amateur photographers when they're shooting videos and stills.
The 4K video recording feature comes with a bunch of additional options. The first one is a 4K burst shot option that captures 8-MP images at 30 fps for a maximum of 15 mins. That gives you enough frames to select the best ones. This model is ideal for high-speed action, fast sports, and wildlife.
The second option is the 4K Pre-burst mode, where the camera records a second worth of images before the shutter button is pressed plus a second worth of images after the shutter button is pressed at a 30 fps frame rate. So, you have a total of 60 frames to select the best pictures of the moment.
The third option is screengrab, where you can freeze a moment in a 4K video, press the shutter, mark the frame, and save it as an 8-MP image. All three modes are useful for shooting fast action, sports, or wildlife.
The Canon EOS Rebel T7 DSLR is a well reviewed camera at this level of the market and there is good reason for that. Canon's most entry-level DSLR is a solid starting point for anyone's voyage into photography. This camera is the predecessor of the EOS 1300D and there is no doubt it comes with improvements and updates that makes it a perfect camera for a beginner. The camera has a basic plastic casing and the kit out and features are not complicated. It comes with a 3fps burst mode and a straightforward 9-point autofocus system, this means when compared to certain other models, it is not as quick. The underlying fundamentals, however, are solid: it offers a 24.1-megapixel maximum resolution for photos and 1080p video capabilities for those looking to use this feature. It offers continuous shooting at three frames per second.
The EF-S lens mount means you have the options to interchange lens and we found this a great option. In conclusion, this is an entry level camera and it does everything required well enough to justify its price. If you're starting out in photography or are looking for a well-priced quality camera, the Photography Revision team highly rate this tried and tested camera.
The Kodak PIXPRO AZ652 is a prosumer bridge camera. It looks like a DSLR but without the interchangeable lenses. It is a compact camera with the conveniences that come with it. The sizeable right-hand grip gives a lot of confidence to the user when using the camera.
A 20.68-MP 1/2.3-inch BSI CMOS sensor powers the camera. Among the small sensor-powered cameras, those with BSI technology are some of the best in the business. They have the best low-light capability.
The native ISO range of the PIXPRO AZ652 is 100-3200, and both low light dynamic range and color contrast are decent at high ISO.
The camera offers a five fps continuous shooting speed. This isn't the best you can get and would be unsuitable for capturing birds, wildlife, or sports. But you can shoot everyday photos with ease.
The fixed lens has an optical zoom range of 65x (24-1560mm on 35mm format equivalent). To assist hand-held shooting operation, the lens features optical image stabilization.
The camera shoots full HD videos at a 60 fps frame rate. The 3-inch rear LCD flip screen is fully articulating and comes in handy in several shooting situations, especially when shooting from the waist height or an angle above the head. The screen also comes in handy when shooting selfies.
Autofocusing on the camera is a breeze. The system allows the use of both single and multi (9-point) autofocus points. With Face-detection it's much easier to lock focus on a face. The system not only detects human faces, but it can also detect animal faces. So, you can focus on your pet dog or cat, and the camera will detect the face type immediately. There is also a feature that can identify when the subject is smiling or has blinked.
Wi-Fi is built into the system and this allows you to seamlessly transfer images from the camera to your mobile device or computer.
Nikon CoolPIX B500 is a compact bridge camera that reminds us of the entry-level DSLRs that Nikon makes – the likes of the Nikon D3500. The build quality is excellent, and so is the handling of the camera. The pronounced right-hand grip gives a reassuring feeling while operating the camera. The lightweight ensures that you can operate it with just one hand. Plus, the buttons and dials fall in place.
Under the hood, there isn't much of a surprise. It uses a standard 1/2.3-inch BSI CMOS sensor that churns out a decent 16-MP resolution. Backside illumination technology ensures that the camera has an excellent low light performance, good dynamic range, and color contrast even when shooting in poor lighting conditions.
The built-in lens offers a 35mm format equivalent optical zoom of 22.5-900mm. This isn't the longest ve seen here, but for m for most purposes, The construction of the lens includes three ED lens elements that ensure that chromatic aberrations and other distortions are suppressed to some extent.
The camera shoots full HD videos at 30p. A 4-axis hybrid image stabilization is also built-in to the lens that ensures that the lens can capture shake-free videos and stills.
The camera is loaded with several other features. One of them is the Smart Portrait System. This system is designed for shooting high-quality portrait photos with minimum effort. This system uses Face Priority Autofocus and Skin Softening technology to ensure that a face is appropriately focused and that skin tones are smooth. Target finding AF helps determine the subject type and immediately locks focus. With the advanced Blink Warning technology, if the camera detects a subject blinking their eye, it immediately warns you.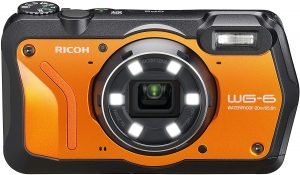 Ricoh WG-6 is an all-weather and all-situation camera. It's the sole representative of the genre of action cameras on this list alongside the GoPro. That said it does not have a compact size compared to some more popular action cameras. The Ricoh WG-6 is a fantastic camera to take with you no matter where you go.
A 20-MP BSI CMOS sensor powers the Ricoh WG-6. BSI sensor ensures better low light capabilities and dynamic range. The base ISO range of the camera is 125-6400.
The camera is weather-sealed and rated waterproof up to a depth of 65.6-feet, shockproof from heights of 6.6-feet, freezeproof, crushproof, and dustproof. It's also resistant to chemical disinfection.
The camera has been designed with ease of control under all weather conditions. So, even wearing a wetsuit or cold weather clothing like gloves, the buttons and dials on the camera are easily operable.
The camera shoots 4K/UHD videos at 30p. The camera incorporates a Shake Reduction (SR)+ feature that stabilizes the footage for smooth results.
The built-in lens does not have the most extended optical zoom in the business. Please note that this camera is designed to be a compact unit that you can take anywhere, not to shoot the moon on a clear night. The 5x optical zoom offers a 35mm format equivalent zoom range of 28-140mm.
The fixed lens has an array of lights surrounding it – just perfect for shooting in dark conditions. Such as underwater or deep inside a forest where insufficient natural light makes it challenging to shoot great photos. Speaking of which, this is one of the best waterproof cameras in the business. The array consists of 6 individual LED lights that produce enough light to illuminate a subject underwater.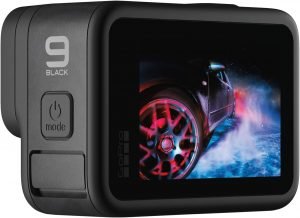 GoPro has been widely regarded as the gold standard since it came onto the scene in 2004. The quality of all their products are exceptional in our view and many of the team here use their products when outdoors. The GoPRO HERO 9 is not the obvious choice in this review as it is used for both camera and videos so the purists may disagree with its selection.
That said we believe this is an incredibly powerful action camera at the price, particularly for those who enjoy the outdoors. This is not the latest model (the GOPRO10) which means you get a great camera in the price range we are looking at.
The GoPro HERO 9 featured here offers an amazing 5k ultra HD of video resolution and it comes equipped with a front LCD screen and a touch rear screen. This camera captures an amazing 20 mega pixel still photo and has the ability to capture incredible videos and this makes it popular with people racing down mountains on skis or mounted on the handle bars of a mountain bike.
The HyperSmooth 3.0 image stabilisation is impressive, especially when paired with the Boost mode over bumpy terrain, with the end footage remaining smooth. The battery life is better than the previous model, and the larger touch rear screen is clear and responsive and given the size it makes it easier to use, particularly if you're on the move.
One thing the team did notice is the difference in weight compared to the GoPro 8 model. The camera is bulkier and slightly heavier, (71mm wide / weight 160g) and this may not appeal to everyone on the move or for pro athletes looking to shave seconds off their personal bests! Overall we think this is the ideal camera if you're a serious filmmaker, explorer or vlogger.
Factors to Consider When Buying a Camera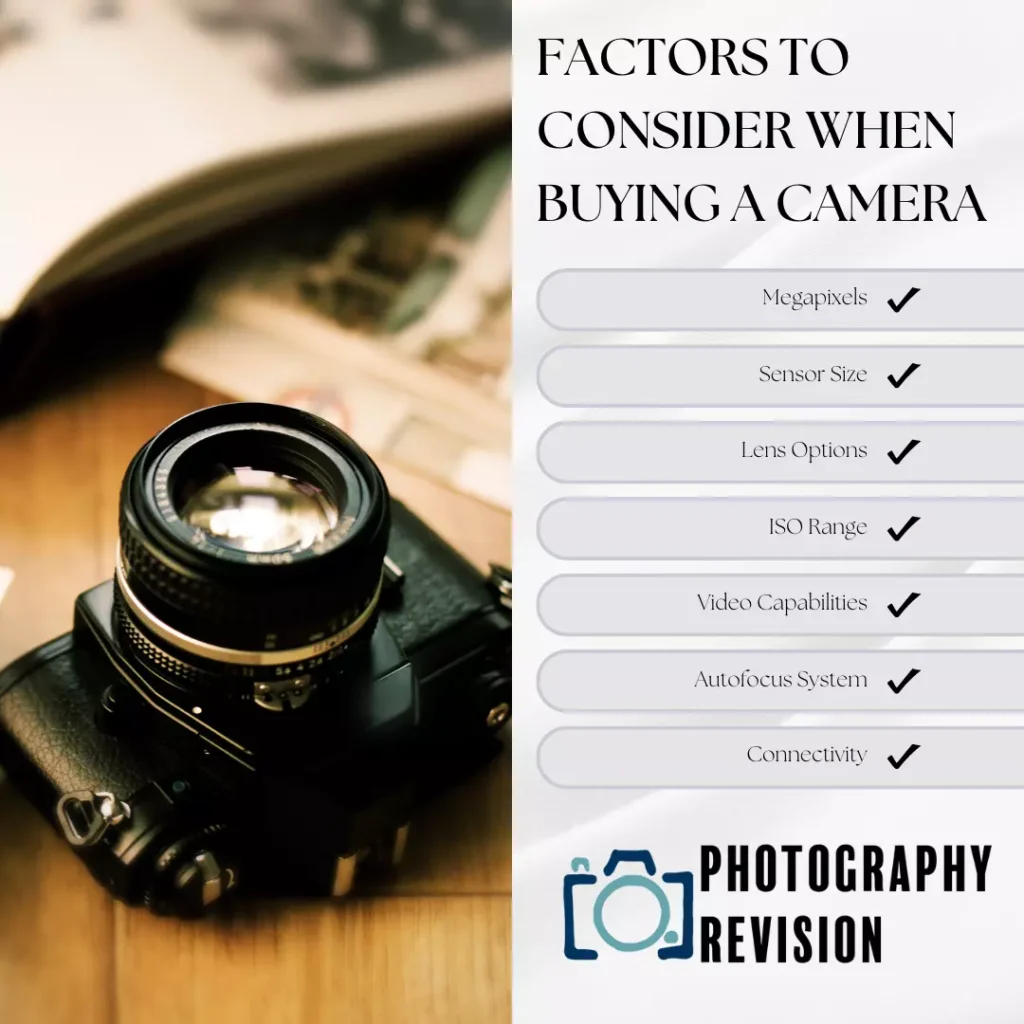 Before diving into the recommendations, let's explore some key factors to consider when purchasing a camera:
Megapixels: Higher megapixels allow for sharper and more detailed images.
Sensor Size: A larger sensor captures more light, resulting in better image quality, especially in low-light conditions.
Lens Options: Check if the camera has interchangeable lenses to expand your creative possibilities.
ISO Range: A wider ISO range enables better performance in different lighting situations.
Video Capabilities: If you're interested in videography, look for cameras with high-resolution video recording and microphone inputs.
Autofocus System: A reliable autofocus system ensures sharp and focused images.
Connectivity: Consider whether the camera offers Wi-Fi or Bluetooth connectivity for easy sharing and remote control.
You may enjoy reading Best Cameras Under $300
Tips for Getting the Most Out of Your Budget Camera
Experiment with different shooting modes and settings to understand your camera's capabilities.
Learn about composition techniques to create visually appealing photographs.
Take advantage of free online resources, tutorials, and communities to enhance your photography skills.
Invest in additional accessories such as tripods, external flashes, or filters to expand your creative options.
Practice regularly to improve your photography skills and explore different subjects and genres.
You may get value in taking our quiz – Which Camera should I buy in 2024?
Frequently Asked Questions
Can I shoot professional-quality photos with a camera under $400?
While budget cameras may not have the advanced features of professional-grade models, they can still produce impressive results in the hands of a skilled photographer. It's more about skill and creativity than the camera itself.
Are there any limitations to consider when buying a budget camera?
Budget cameras may have certain limitations such as slower autofocus, limited ISO range, or fewer customization options. However, these limitations can be overcome with practice and by understanding the camera's capabilities.
Can I use interchangeable lenses with cameras under $400?
Some budget cameras offer the option to use interchangeable lenses, providing you with versatility and the ability to explore different focal lengths and shooting styles.
Are budget cameras suitable for videography?
Yes, many budget cameras have video recording capabilities, including high-resolution options. However, it's important to note that dedicated video cameras or more expensive models may offer additional features specifically designed for videography.
Where can I find the best deals on cameras under $400?
Online retailers, authorized camera dealers, and photography-specific websites often offer competitive prices and special discounts on cameras. It's worth comparing prices and reading reviews before making a purchase.
FINAL THOUGHTS
Buying a camera under the $400 price mark can seem daunting given it may be your first big purchase and there is a wide choice out there, that said with some proper research we believe it can be done if you know what you are looking for. Here at Photography Revision HQ we have spent time reviewing the market, putting this equipment through its paces and also reading other expert views. If you follow the advice in the article you shouldn't go far wrong with your camera experience.
And if you want further advice, try our independent quiz, put together by our professional team here to find the perfect camera for you whether you are a beginner or a professional.