Nature photography allows us to capture the awe-inspiring beauty of the natural world. To truly capture those breathtaking landscapes, vibrant wildlife, and intricate details, it's crucial to have the right lens. In this article, we will explore the best lenses for nature photography, helping you make an informed decision to elevate your photography skills and capture stunning images of nature's wonders.
Because nature photography is such a vast genre and encapsulates so much within itself, the choice of lenses is also vast. You need fast telephoto lenses with optical image stabilization and fast autofocus to shoot wildlife. Then again, for landscape photography, wide-angle lenses are better suited. Similarly, you need a macro lens to shoot close-up macro shots in nature (flowers, bugs, and dew drops).
So, no one lens can do it all, and you need the best lens to go with the best camera. Your lens choice will depend on the specific genre that you're shooting. As a professional photography equipment reviewer for over 13 years, I have worked with many lenses on several nature photography sojourns. In this discussion about the best lenses for nature photography, I'll review a few lenses covering the landscape aspect of nature photography. In a future discussion, perhaps, I will discuss Best Lens for Nature Photography. So let's get started.
What Makes a Great Landscape Photography Lens?
If you're considering investing in camera lenses, make sure you do your research first. Choosing a new lens involves looking for a few things. 
Focal Length
Commonly used lenses for landscape photography include four types. Prime lenses, zoom lenses, wide-angle lenses, and telephoto lenses are some of the types of lenses available.
Wide Angle – Ultra-Wide Angle Lens
The most popular lenses for landscape photography are wide-angle and ultra-wide-angle lenses. Many of them have focal lengths between 14 and 35mm, but some even have focal lengths as wide as 10 or 12mm.
The reason they're so revered is that they provide you with a wide field of view and a long depth of field, which is what most landscape photographers seek when they shoot. From the foreground to the background, your images will be consistently sharp in focus due to these two qualities.
Additionally, to have sharp focus, wide-angle lenses also have barrel distortion, which makes them quite dynamic for landscape photography. A photographer can use this effect to exaggerate and emphasize important elements of a composition by getting close to the subject.
Standard Zoom Lens
There is usually a range of 24-70mm for standard zoom lenses. Its beauty lies in the fact that the field of view is similar to the human eye, which is generally accepted to be around 35-50mm. The result will be more realistic images that will resonate with viewers.
You might want to leave some of the scenery out of a scene with a standard zoom lens. It can be very distracting to look at a landscape with great quantities of empty space around your subject. In situations like these, using a standard zoom lens will allow you to place more emphasis on your subject by zooming in. Additionally, when surrounded by fragile vegetation or a fence, it can give you an advantage in getting closer to your subject.
You may enjoy reading What is ISO in photography
Telephoto Lens
Telephoto lenses, also known as 'long lenses', are usually between 70 and 200mm in focal length. As they allow you to compress the scene, they're great when you need to convey a sense of scale.
By tightening your compositions and eliminating distractions, you can create more intimate landscape images with telephoto lenses. A telephoto lens can also be used to create abstract images by focusing on textures and patterns.
It can sometimes be difficult to get close to your subject when photographing landscapes. Telephoto zoom lenses come in handy here because of their extra length.
Prime Lens
A prime lens is one that has a fixed focal length – i.e., it cannot zoom. In addition to taking nighttime pictures of landscapes or shooting stars, they are also used for certain other purposes.
You may enjoy reading Best ISO Setting for Low-Light Photography
Aperture
New cameras often come with zoom lenses as a standard feature. It may be easier for photographers to start shooting right away with kit lenses, but they often have variable apertures (e.g. f/4.5-5.6), which are not ideal for landscape photography. A fixed aperture lens (e.g. f/2.8) is what you want. It is true that fixed aperture zoom lenses are more expensive, but they are versatile in terms of how you can use them in different situations, such as when switching from daytime to night-time photography.
In low-light conditions, such as when photographing sunrises and sunsets, lenses with a fast aperture are particularly useful. If you want to capture the stars, the moon, the Milky Way, or the Northern Lights at night, you'll also need a lens with a fast aperture. Landscape photography does not have a best aperture, but it is recommended that your lens has an aperture of at least f/4.
The f/2.8 aperture is common in many zoom lenses nowadays, so they are ideal for shooting in low light. There are prime lenses with faster apertures such as f/1.8, f/1.4 and f/1.2. Although they can be heavier and more expensive than zoom lenses, prime lenses are less flexible for landscape photography. There are, however, many landscape photographers who have dedicated prime lenses just for nighttime shooting. A prime lens with a fast aperture, along with a few zoom lenses, will be a good investment if you have the budget and the ability.
Autofocus
A lens with autofocus capabilities is still a good investment for landscape photographers, despite the fact that this genre is much slower than sports photography. Occasionally, focusing manually becomes a hassle, such as when shooting landscapes handheld.
When shooting in low light conditions or at night, switching to manual focus is the best option.
You may enjoy reading Best Cameras for Sports Photography Beginners
Image Stabilization – Vibration Reduction
There is now an inbuilt image stabilization feature on most lenses that reduces camera shake. Using this tool can be helpful, not just when you are shooting handheld, but also when the wind is blowing. Shooting in low light will benefit from it, as it can make the difference between blurry shots and sharp ones.
Weather Resistance
Landscape photography requires lots of outdoor time in all kinds of weather conditions. When in the field, choose a weather-sealed, durable lens to avoid malfunctioning in the event of a little rain or moisture.
Best Lens For Nature Photography Table – The Ultimate Guide for 2023
Best Lens For Nature Photography – The Ultimate Guide for 2023
If you want to skip to the best bit, here's the list.
Our Top Recommended Product
The 16-35mm is a very popular lens among landscape photographers. It offers a sweet zoom range that covers many scenes in front of the camera. A typical 16-35mm lens, such as the Canon EF 16-35mm f/4L IS USM, offers an angle of view of 108° 10′ to 63° when mounted on a full-frame camera. The focal length goes from an ultra-wide angle to a standard wide focal length. If you're a landscape photographer, this is one of the best options to capture a larger slice of the scene. Let's look at a few options.
This is the cheaper alternative to the Canon EF 16-35mm f/2.8L III USM . That's if you want to save money on your 16-35mm lens. If you shoot landscape images, you can choose this one over the Canon EF 16-35mm f/2.8L III USM and save a bit of money in the process. In any case, as you will be shooting at f/8 or f/11 for landscape shots this makes ample sense too.
The 16-35mm f/4L IS USM has a decent weight for a wide-angle lens. Weighing 615 grams, this is certainly a little on the heavier side. For landscape photographers planning on hiking to a mountain top, consider the weight of the other equipment – a full-frame camera, filters, and tripod. They all add up to a significant number.
Even though it has a lot of plastic in the construction, the good news is that the lens is well crafted. So, it should be able to withstand a bit of abuse. At the back of the camera, if you notice carefully, there is a weather-sealing gasket that promises that the lens will be able to repel a bit of moisture and dust.
Now about the critical performance aspect on which everything hinges. Wide open at f/4, this wide-angle zoom lens is crisp and sharp at the center, both at 16mm and 35mm. However, the corners show some sharpness loss and a wee bit of purple fringing at 16mm.
That, however, isn't too much to forbid you from investing in this lens. Stopping down the lens improves sharpness, fringing, and corner brightness significantly. At 35mm, corners are a bit softer, but not as much as at 16mm.
As far as 16-35mm f/4 zoom lenses go, this is the Nikon equivalent of the 16-35mm f/4 lens I discussed above. If you're a dedicated Nikon user, this is the lens you should look at for shooting landscapes. This lens offers the same focal length as the Canon lens I discussed. However, the angle of view with this lens is slightly different at 107° to 63°.
The construction feels solid in the hands. This is a heavier lens than the Canon one above, and at 680 grams, I have the same observations about this lens in terms of suitability on long hikes, etc.
Many Nikon users prefer the 14-24mm f/2.8. It's a fantastic lens. However, considering that it weighs 1 kilo and is a lot more expensive than this one, I feel that the Nikon AF-S 16-35mm f/4G ED VR is a more practical choice for users who are just starting and have a tighter budget or looking for options that won't burn a hole in their pants. If you have the budget for the 14-24mm f/2.8, go for it.
In terms of performance, this Best Lens for Nature Photography is very sharp and wide open. The center of the frame is sharper than the corners are wide open. However, stopping down the lens, the corners of the frame experience increased sharpness, as does the middle of the frame. There is a significant boost in sharpness when you stop down from f/4 to f/5.6. Sharpness increase is marginal beyond f/8.
This is the third 16-35mm lens in this discussion. I think it's quite clear now that I love this focal length for shooting landscape photos. This lens is designed for Sony's E-mount full-frame cameras.
There is no image stabilization on the lens. But that shouldn't be a huge deciding factor considering that most Sony E mount cameras come with body-based image stabilization.
The lens has an 82mm filter thread specification. This means you're open to using different kinds of regular circular filters.
Coming now to the image quality of this lens. The sharpness of the lens is phenomenal. Even when shooting wide open at f/2.8 at the widest focal length, the lens is very sharp in the middle. Corners are a bit softer. However, if you stop down the lens to f/4, corners appear to become noticeably brighter and sharper at the same time. Sharpness doesn't get significantly better beyond f/4.
Zooming in, however, the lens does suffer from sharpness issues, especially at the corners. When shooting at f/2.8, corners are very soft, from what I get when shooting at 16mm. Stopping down the lens again improves overall sharpness.
This is a relatively "inexpensive" option for full-frame Canon users looking for an all-purpose f/4 lens to shoot landscapes, architecture, interiors, and portraits. Though it's designed for full-frame Canon EOS EF mount cameras, the lens also works with EF-S or crop sensor Canon cameras.
The lens's focal length makes this a versatile tool for various genres, including nature photography.
If you travel quite a lot and want to pack just one lens that does everything from nature photography to street photography and portrait photography, this is a good lens.
On the broader side of the focal length, which is 24mm, this is a practical choice for shooting landscapes. The lens offers an angle of view of 84 degrees at 24mm, which is pretty good for landscape photography. Of course, there is no comparison with the Sony FE 12-24mm f/2.8 GM or the Nikon AF-S NIKKOR 14-24mm f/2.8G ED. But this is still a fantastic lens.
Optically, this Best Lens for Nature Photography offers good performance across the focal range. Corner softening is a problem at the longer focal length, which is strangely not a problem when shooting at the shorter focal length.
The 24-70mm f/2.8 is a wide-angle to a portrait zoom lens and is widely considered a photojournalist's workhorse. In many ways, this is one of the most popular focal lengths among photographers because of the versatility of this lens. This lens is a solid landscape photography tool at the widest focal length.
The optical performance of the lens is fantastic. Even when you're shooting with the widest aperture and the widest focal length, the sharpness results of the lens are magnificent. Even when zoomed in at 70mm with the widest open aperture, you won't find any significant reasons to be unhappy. But I still believe that the best performance by the lens is at 24mm. Stopping down the lens beyond f/2.8 only improves image performance by a little bit. As a landscape photographer, you will use this lens mostly at f/8 or even f/11.
One thing that I don't like about this lens is that it does not have image stabilization. For an all-purpose lens, this is something that you would have expected the lens would have it. As a nature and landscape photographer, you would be shooting with a tripod for the most part. So, not having image stabilization will not matter for most landscape shooters. But Canon has compensated us for not giving image stabilization by providing a lens that's sharp across the frame.
We can't write a review of the best lenses for nature photography without mentioning the venerable Nikon AF-S NIKKOR 14-24mm f/2.8G ED. Launched in 2007 along with the Nikon D3, this is an absolute delight to shoot with and one of the best landscape photography lenses out there.
This lens has been designed for Nikon's full-frame F mount camera systems but will also work with smaller APS-C (DX)n format cameras with the crop factor applied.
It's ultra-sharp, produces fantastic images, and handles well. The only concern is the lack of filter options, image stabilization, and price. You can use one of the NiSi 150mm filter holders to use 150mm 2 mm-thick filters. Up to three rectangular filters can be used with this system. There is also the Lee Filters SW150 Mark II system that's very highly rated.
This excellently constructed lens should not give you any reasons to worry about it except for the bulging front glass element. The built-in petal-shaped hood is sometimes inadequate to prevent something from hitting and scratching the front glass elements.
I mentioned above that if you're a Nikon user and can buy this lens, go for it. Comparing this lens with the 16-35mm f/4 discussed above, it wins hands-down in optical performance. This lens is way sharper between f/4 and f/8. And, of course, the 16-35mm f/4 does not open up beyond f/4, while the 14-24mm is stunning at f/2.8.
This big and expensive Sony G Master lens is in a long line of impressive Sony wide aperture zooms that the manufacturer has released in the last few years. When it was launched, this was the widest zoom lens with an f/2.8 aperture making it the envy of non-Sony landscape and interior photographers. The lens has been designed for the Sony E mount mirrorless cameras.
That said, 12mm isn't always the most sought-after focal length for shooting landscapes and nature photography. It is too wide even for photographers looking for a wide perspective. But for me, that's not always bad (call me greedy). I would love to exploit the extremities of a lens and push it to see what it can do. And if that means capturing an epic field of view, so be it!
But I am sure many interior and architecture photographers will not complain. Considering they routinely find their backs to the wall (literally) when shooting interior photos, there is a good chance they will love this lens mounted on their camera body.
Now about the optical quality of the lens. Pundits will be skeptical about the corner sharpness, as they always do with extremely wide-angle lenses. Sony has used three Extreme Aspherical (XA) elements that are aimed for the sole purpose of keeping this a rectilinear lens even at extremely wide angles and ensuring the sharp rendering of features.
Sony has used a Nano AR Coating II to reduce ghosting and flares, improving sharpness and contrast when working in difficult lighting conditions.
If you're a smaller Canon camera, such as one of the crop sensor-powered bodies like the Rebel T7 or the Rebel SL3, buying a lens optimized for the smaller image circle makes more sense. Indeed, when you consider that lenses built for the larger image circle of full-frame cameras are more expensive, and at the end of the day, you won't use the e9]88ntire image circle of such a lens.
The Canon EF-S 10-22mm f/3.5-4.5 USM is a budget lens and is a good option for shooting landscape photography with your crop Canon camera. The lens's effective focal length range is 16 – 35.2mm when mounted on a crop camera. This means the lens is still good for shooting landscapes and nature photography. The 16mm focal length (effective) is too wide, sometimes even catching elements that I am not expecting.
Regarding the all-important question of sharpness, the 16-22mm is a sharp lens. I am happy with the quality of the images that I have got. Sharpness is sometimes a very overrated aspect, and many photographers blame the lens alone for issues with sharpness. The thing is, sharpness depends on several factors other than the lens alone. When shooting wide open, this lens is decent. Stopped down sharpness improves.
That said, some chromatic aberration is noticeable when shooting at the widest focal length. This starts to go away as you zoom in. The lens also suffers from vignetting at the shortest focal length, which goes away when you zoom in and stop down the lens.
In terms of prime lenses, the 24mm and the 20mm are two of my favorite choices for landscape photography. The 24mm is a standard focal length for shooting landscape and nature photography. It's neither too extreme nor too tight. Regarding the angle of view, the 24mm gives you a focal length of 84 degrees. The lens has been designed for Canon's full-frame EF series cameras. But it will also work with smaller APS-C cameras.
This is a fast lens with a much wider maximum aperture than the other lenses on this list. Fast lenses are known for shallow depth of field. Not exactly the best of features for shooting landscape photography. But you can shoot from a closer distance and blur the background if you want.
The lens weighs 650 grams and feels quite solid in the hands. This is quite hefty for a prime lens. Construction is outstanding and lines up with the L moniker that the lens wears. The good thing is that the lens is weather sealed, which will be extremely useful outdoors. However, for complete weather sealing, you will still need a filter to protect the lens's front element.
In terms of performance, the widest aperture performance of the lens isn't its strongest USP. Wide open, the lens is a bit soft at f/1.4. Also, there is significant vignetting at f/1.4, But you will hardly use this lens at the widest aperture for shooting landscape photography. You will be using this lens at f/8 for the most part, where it delivers sharp images. Also, vignetting goes away when you stop the lens down to f/4 and beyond. Alternatively, you can correct the problem in post-processing.
So, which of the above is your favorite nature photography lens? Do share your choice with the rest of us. Also, please let us know if you think we missed out on a lens you feel ought to be on this list.
Lens Accessories for Nature Photography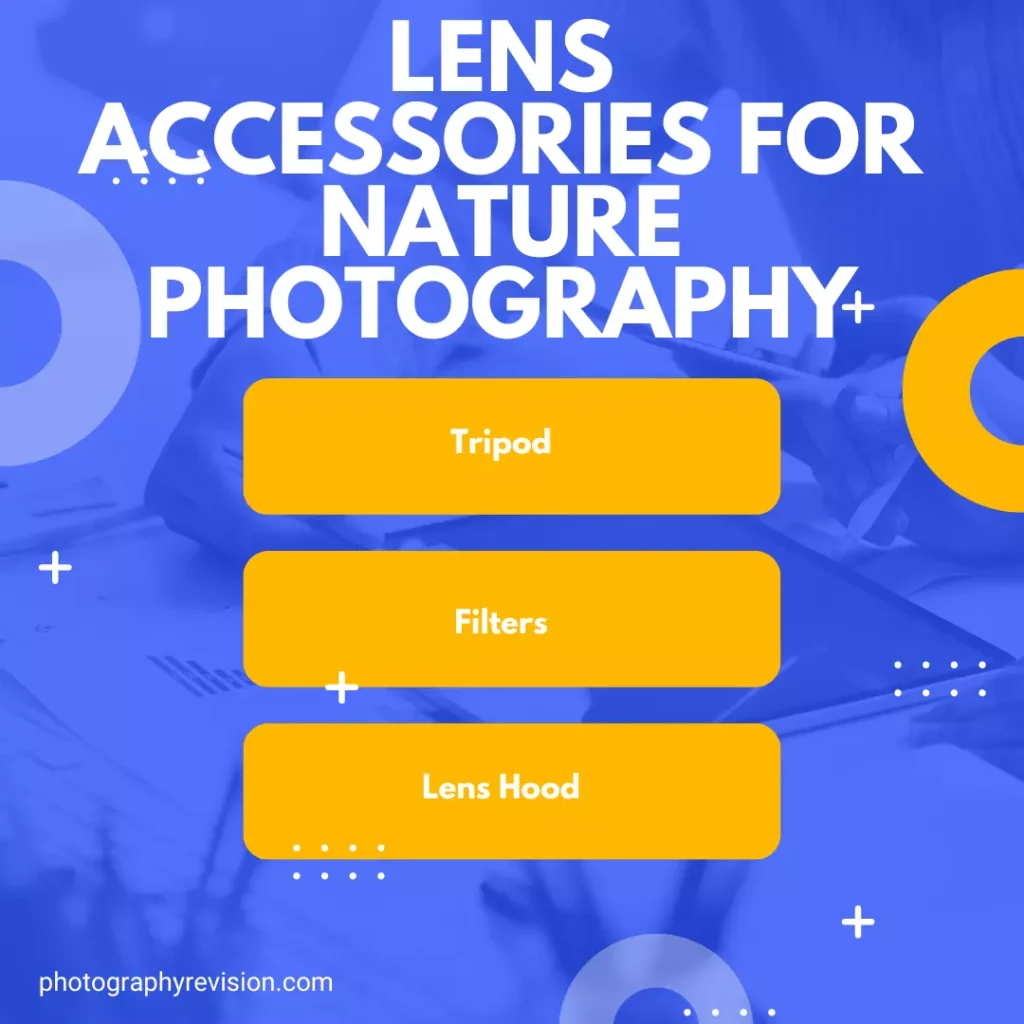 Apart from choosing the right lens, there are several accessories that can enhance your nature photography experience. Here are a few essential accessories to consider:
1. Tripod
A sturdy tripod is indispensable for nature photography, especially when shooting in low light conditions or when using longer focal lengths. It provides stability and eliminates camera shake, resulting in sharper images. Look for a tripod that is lightweight, durable, and easy to carry during outdoor adventures.
2. Filters
Filters can significantly enhance your nature photographs. A polarizing filter helps reduce reflections and glare, particularly when photographing bodies of water or glass surfaces. Neutral density (ND) filters allow you to control the amount of light entering the lens, enabling longer exposures for creative effects such as silky smooth waterfalls or misty seascapes.
3. Lens Hood
A lens hood is a simple yet essential accessory that helps prevent lens flare and protects your lens from accidental bumps and scratches. It blocks unwanted stray light from entering the lens, thus improving image contrast and overall quality.
You may enjoy reading Best Canon Lenses for Landscape Photography
FAQs
What is the best lens for landscape photography?
The best lens for landscape photography is a wide-angle lens, such as a 16-35mm zoom lens or a prime lens with a focal length of around 24mm. These lenses provide a broader perspective and allow you to capture the vastness of landscapes effectively.
Can I use a telephoto lens for nature photography?
Yes, a telephoto lens is useful for nature photography, especially when capturing distant subjects like wildlife or birds. It allows you to zoom in and capture details that may not be reachable with other lenses.
What is the importance of image stabilization in nature photography lenses?
Image stabilization helps counteract camera shake when shooting handheld or in low light conditions. It ensures sharper images by compensating for small movements, resulting in better image quality.
Are macro lenses only for close-up photography?
Macro lenses are primarily designed for close-up photography, but they can also be used for other genres. Their high magnification capability and sharpness make them suitable for capturing intricate details in various subjects.
Can I use filters with all lenses?
Filters can be used with most lenses as long as they have the appropriate filter thread size. It's essential to check the compatibility of the filter with your lens before making a purchase.
Conclusion
In conclusion, choosing the best lens for nature photography depends on the specific requirements of your photographic endeavors. Prime lenses offer superior image quality and are well-suited for specialized needs, such as capturing wide landscapes or distant wildlife. Zoom lenses provide versatility and allow you to adapt to different situations without changing lenses. Macro lenses excel in capturing intricate details of small subjects. By selecting the right lens and accompanying accessories, you can unlock the full potential of your nature photography.
You may enjoy reading Best Cameras for Photojournalism