'Landscape photography is the supreme test of the photographer—and often the supreme disappointment.' – Ansel Adams.
I open this discussion with this favorite quote of mine by the pioneer of landscape photography – Ansel Adams. Landscape photography is, in many ways, a test of the photographer's grasp of the fundamental skills that govern photography. Exposure, composition, lighting, and aesthetics. As a landscape photographer, you need skills beyond just aiming your camera and pressing the shutter release. It would help if you had the zeal to use unconventional methods and tools that have the potential to capture a different perspective.
This discussion on the Best Canon Lenses for Landscape Photography will, thus, recommend lenses that are not only conventional choices but also unconventional. These lenses will push you to explore avenues that you may not have explored before. Nevertheless, you will be able to capture interesting images. I will limit this discussion to mirrorless lenses only. Perhaps in a later discussion, I will talk about similar lenses for Canon's DSLR systems. That discussion will include both Canon EF-S and EF lenses.
If you are short on time we recommend two top picks;
My top pick would be the RF 15-35mm f/2.8 L IS. This lens comes with a practical focal length, fast autofocusing, and excellent image stabilization, and it complies with the electronic focus breathing option available on some latest Canon mirrorless systems. Additionally, the lens has excellent weather sealing.
My second-best pick is the RF 24-105mm f/4 L IS USM. This focal length offers a slightly bit more room for maneuver, and it is a great focal length if you want to zoom in and get a tight shot of a scene.
Understanding landscape photography
Before diving into the best Canon lenses for landscape photography, it's crucial to understand the unique requirements of this genre. Landscape photography aims to capture the essence of a scene and convey the beauty and mood of the natural environment. It often involves wide-angle shots to encompass the expansive landscapes and emphasize the depth and scale of the surroundings.
You may enjoy reading Best Cameras Under $300
Importance of lenses in landscape photography
Lenses are the eyes of a camera, and choosing the right lenses for landscape photography is essential for capturing stunning images. They determine the field of view, perspective, and sharpness of the photos. The quality and characteristics of lenses greatly influence the overall image quality, including color reproduction, contrast, and distortion.
A word about Canon's mirrorless systems
Mirrorless lenses such as the Canon RF lenses have opened a world of opportunities for the discerning photographer. If you've been an EF user with DSLR cameras, the build quality and the image quality of Canon's L series lenses are superb. But the RF lenses (for Canon RF mirrorless cameras) take things to a different level. They're optically sharp and lightweight, and because they sit so deep into the camera, they can make brighter lenses much more quickly than on the EF system.
One of the significant advantages of RF lenses over EF lenses is that the RF mount uses a 12-pin design over the 8-pin design of Canon's EF lenses. This allows RF lenses to transfer information back and forth between the camera faster than EF lenses. The result is that RF lenses are faster when it comes to autofocus and come with better image stabilization.
A critical advantage of the RF series lenses is the advent of DLO or Digital Lens Optimization. This technology is designed to use a lens' built-in memory to record any chromatic aberration or other distortions that may have happened when the image was taken and then to correct them automatically.
Most of the non-cine lenses across all suffer from focus breathing issues. This happens when you're rocking focus from a subject far away from the camera compared to a subject much closer to it. Most lenses suffer from this issue unless you're using one of the latest cameras that have the technology to correct focus breathing issues electronically. The EOS R6 Mark II comes with this option in the Canon line-up.
However, for this technology to work, the lens firmware on some lenses needs to be updated.
Okay, without further ado, let's look at the list of the best Canon lenses for the RF mount.
Best Canon Lenses for Landscape Photography
Interestingly, some of the earliest lenses that Canon introduced as a part of their RF lens mount system were all wide-angle zoom lenses. The 15-35mm f/2.8L IS is one such wide-angle zoom lens. The other is the 24-70mm f/2.8L IS lens I discussed below was another such lens. The 15-35mm is superior to the Canon EF 16-35mm f/2.8L III USM and the Canon EF 16-35mm f/4L IS USM.
With the older lenses, you would have to choose whether you need the added benefit of image stabilization or the faster aperture of f/2.8. With the larger lens mount (RF), Canon has combined these benefits. You have the fast f/2.8 aperture that collects an incredible amount of light.
And you also have the five stops of image stabilization. This ensures you don't need to support the lens on a tripod in low-light situations. If you're using the latest EOS R6 Mark II, you will also have the advantage of using the electronic focus breathing option. This is handy when you're stacking your shots or shooting videos. Also helping you to work in difficult weather conditions is the weather sealing part. This lens offers excellent weather sealing. Also, the front element of the lens comes with fluorine coating. Smudges, dirt, and fingerprints are easily cleaned.
This is one of the best RF lenses that Canon has produced for their RF mount. The most significant features of the lens are its fantastic wide-open aperture of f/2.8 and the five stops of image stabilization built-in into the lens. This quickly opens up a lot of hand-held photography opportunities. I know many landscape photographers prefer to shoot with the camera on a tripod.
That's the best and most traditional way of shooting landscape photography. However, that does not always give you a lot of flexibility in your hands. Being able to shoot hand-held ensures you can explore those perspectives that the tripod obstructs you from exploring. But then, this isn't the lightest of lenses in the business. At 900 grams, you will feel the lens's weight as you hold it for some time. The biggest drawback of the lens, however, is its price tag.
Canon seems to have no regard for the pricing of their RF lenses, and the RF 24-70mm f/2.8L IS is yet another example of that. If you feel you don't need the advantage of f/2.8 aperture, I have discussed the RF 24-105mm f/4 L IS USM and the RF 14-35mm f/4 L IS USM later in this discussion. Those are some excellent alternatives that you can look into. The 14-35mm won't cover the focal length range of 24-70mm. The 24-105mm will. But the 14-35mm will cover the wide angle aspect and give you plenty of room to work with.
The best landscape photography lenses are mostly ultra-wide angle lenses. But some, like the RF 24-105mm f/4 L IS USM, offer a longer telephoto focal length. This kit lens was launched along with the first EOS R series cameras. But this lens has a lot of potentials, being a general-purpose lens with a focal length ranging from 24mm to 105mm. Ideal for full-frame camera systems using the RF mount. At the wide end of the focal length, the lens is ideally suitable for shooting landscape photography. The f/4 aperture isn't that fast, but as a landscape lens, you would rarely be using it for anything wider than that for standard compositions.
However, when you're going to shoot something closer to the lens and attempt to blur the background for such purposes, you're better off with the likes of the RF 70-200mm f2.8 L IS USM. Mirrorless lenses come with excellent image stabilization built-in; in that regard, the RF 24-105mm f/4 L IS USM does not disappoint. The lens comes with five stops of excellent image stabilization. This comes in handy when shooting hand-held and makes it redundant to use a tripod in several situations.
Autofocusing is very fast and accurate and is a joy to work with. Among the many benefits of this lens is the excellent weather sealing that this lens comes with. Even then, the lens weighs only 700 grams which is a surprise. Weather sealing ensures you can use this lens in all weather without worry. An ergonomic issue I noticed is that the three control rings on the lens are very close to each other. Although the zoom ring, the focus ring, and the control ring have different patterns, they're awfully close to each other for comfort. Especially the zoom ring and the focusing ring.
The 70-200mm f/2.8 isn't a top pick for landscape photography considering telephoto lenses are not too popular for wide expansive compositions. Many photographers will feel that the 34-degree angle of view (at 70mm) is limiting for landscape photography. Not to mention that the angle of view drops down to 12 degrees when shooting at 200mm. Having said that, the lens opens up other avenues you can exploit.
Sometimes when you're bored with capturing the expansive panoramic views of a place, it is a good idea to explore the smaller and finer aspects of nature. Zoom in toward specific areas of a shot and highlight them. The 70-200mm is an excellent lens for capturing bokeh. So, you can focus on a subject and produce those soft focus effects that would make exciting compositions. Not to mention that this lens is ideally suitable for portrait photography as well. So you can always punctuate your landscape photography sojourns with a few portrait images here and there.
This is a weather-sealed lens, and despite the extended design of the lens, I do not feel that it poses any danger of dust or moisture making its way into the lens. This lens has a few downsides, one being that it cannot be used with a teleconverter. That means if you were planning on a 70-200mm f/2.8, that's image stabilized and can be doubled up as a wildlife (and birding) lens, this isn't the one for you. Yet you pay an insane amount of money for it.
Wide-angle lenses are the primary choice among landscape photographers. And for obvious reasons too. The 14-35mm f/4 L IS USM offers a slightly wider angle of view with an aperture that stops slower than the RF 15-35mm f/2.8 L IS lens I discussed above. On the other hand, this lens is also a lot cheaper than the 15-35mm f/2.8. So, if you're looking for a cost-effective wide-angle RF lens for your EOS RF mount Canon camera, you can look at this lens. Is 14-35mm a considerable advantage over a 16-35mm lens? I doubt it.
It all comes down to a few feet. Just take a few steps backward, and your problem will be solved. The only real benefit is the cost-effectiveness of the 14-35mm lens and the loss of one stop of light. There is another advantage, though, that comes from the weight of the lens. The RF 14-35mm f/4 L IS USM is much lighter than a comparable EF 16-35mm f/2.8L III USM. In terms of optical features, the RF lens offers excellent image quality along with exceptional contrast and colors straight out of the camera. Sharp lenses also help exploit the high sensor resolution in some cameras.
This is critical for capturing detail in landscape photography (also in other high-resolution photography genres). Despite the lightweight frame of the lens, the RF 14-35mm comes with a total of 11 internal seals to ensure that the lens is protected from the elements. As a landscape lens, this one can withstand Mother Nature's effects and anything that she can throw at it. The lens also features fluorine coating, ensuring that any fingerprints, smudges, and dust elements landing on the lens can be easily cleaned.
Not all great landscape lenses are priced upwards of two thousand dollars. You can undoubtedly get some usable lenses at affordable prices. Although Canon isn't exactly known for keeping their price tag at a reasonable level, there are a few reasonably priced lenses that they have released. And one of those lenses is the Canon RF 15-30mm f/4.5 – 6.3 IS STM.
It's an affordable kit lens for full frame camera systems using the RF mount that covers a great focal length coverage of 15mm to 30mm. However, capturing landscape images at 15mm is probably pushing things too much. The same goes for all the 14mm and 15mm wide angle lenses that I have listed here. For me, 20mm to 28mm is the sweetest range. The Canon RF 15-30mm f/4.5-6.3 is a solid focal length option for shooting landscapes. And the good thing about this lens is it's inexpensive.
If you're an entry-level landscape photographer or looking for something on a budget, you can look at this lens as a great choice. However, one disadvantage of this lens is that it may not be as easy to focus on a foreground subject as you would have liked. The maximum aperture is f/6.3 at its 'long' end.
It isn't easy to create a shallow depth of field at times. Also, in low light situations, the lens tends to struggle when focusing and exposing objects in the foreground. But if you can work around this issue of lack of fast aperture, this is a good choice for entry-level landscape photographers and one that brings great value on to the table.
Factors to consider when choosing Canon lenses for landscape photography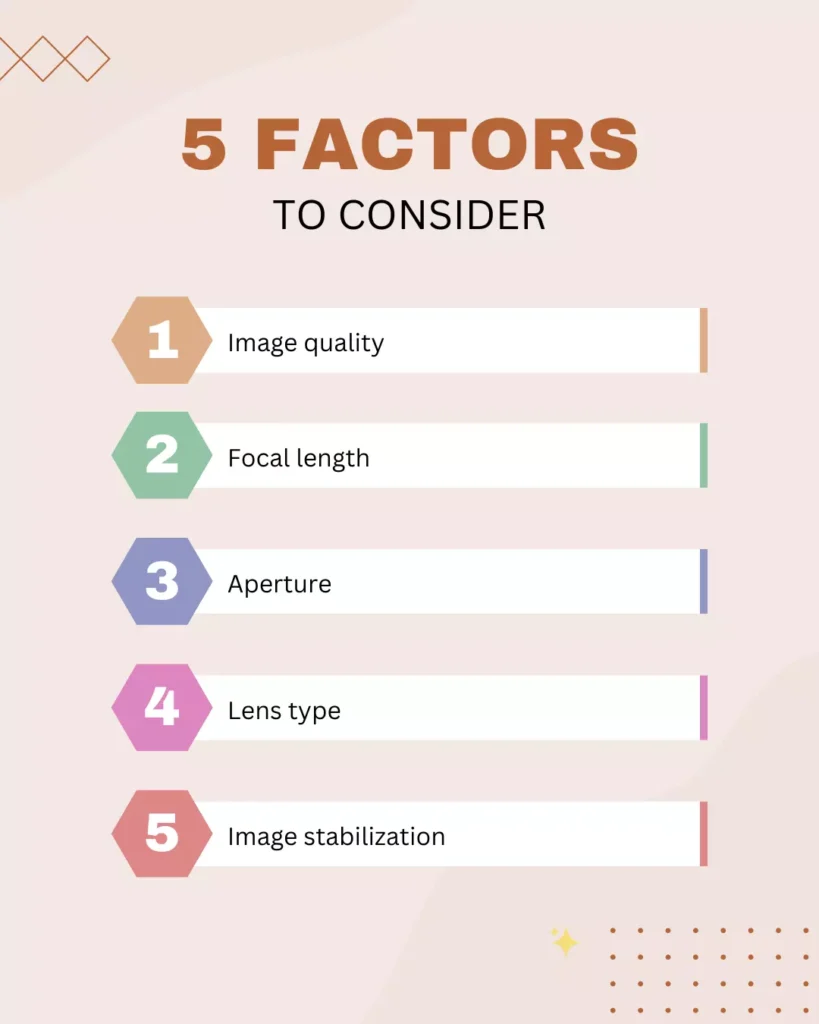 When selecting best Canon lenses for landscape photography, several factors should be considered to ensure optimal results.
Image quality
Image quality is paramount in landscape photography. Look for lenses that offer excellent sharpness, minimal distortion, and high-resolution capabilities. Canon's L-series lenses are renowned for their superior optical performance and image quality.
Focal length
Wide-angle lenses are popular for landscape photography as they allow capturing expansive scenes. Look for lenses with focal lengths ranging from 16mm to 35mm for wider coverage. Additionally, telephoto lenses in the range of 70mm to 200mm can be useful for compressing distant landscapes and isolating specific elements.
Aperture
A wide aperture allows more light to enter the lens, enabling faster shutter speeds and better low-light performance. For landscape photography, lenses with wider apertures, such as f/2.8 or f/4, are beneficial for flexibility and depth of field control.
Lens type
Canon offers a variety of lens types, including prime lenses, zoom lenses, and tilt-shift lenses. Prime lenses generally offer superior image quality and wider apertures, while zoom lenses provide versatility and convenience. Tilt-shift lenses can be useful for achieving precise focus and perspective control in landscape photography.
Image stabilization
Image stabilization technology helps reduce camera shake, particularly when shooting handheld or in low-light conditions. While not essential for landscape photography, image stabilization can be advantageous in certain situations.
You may enjoy reading Best Beginner Cameras for Nature
Tips for using Canon lenses in landscape photography
To maximize the potential of your Canon lenses in landscape photography, here are some tips to keep in mind:
Composition and framing: Pay attention to the placement of elements within the frame to create visually compelling compositions. Use leading lines, the rule of thirds, and foreground interest to enhance the impact of your images.
Depth of field: Adjust the aperture to control the depth of field and achieve the desired level of sharpness and focus. Smaller apertures (higher f-numbers) increase the depth of field, while larger apertures (lower f-numbers) create a shallower depth of field.
Focus and sharpness: Use manual focus or autofocus to ensure critical elements in your landscape are sharp. Consider using live view and zooming in to fine-tune focus accuracy.
Filters and accessories: Experiment with filters such as neutral density (ND) filters and graduated neutral density (GND) filters to balance exposure and enhance dynamic range. Additionally, a sturdy tripod and a remote shutter release can help capture sharper images, especially in low-light conditions.
FAQs
Are Canon lenses suitable for landscape photography?
Yes, Canon lenses are highly suitable for landscape photography due to their exceptional image quality, versatility, and features specifically designed for capturing wide angles, intricate details, and vibrant colors found in landscapes.
What factors should I consider when choosing a lens for landscape photography?
When selecting a lens for landscape photography, consider factors such as focal length, aperture, lens construction, image stabilization, and weather sealing. Each factor plays a significant role in determining the suitability of a lens for capturing landscapes.
Can I use a telephoto lens for landscape photography?
Yes, telephoto lenses can be used for landscape photography. They allow you to capture distant scenes, compress elements within a scene, and isolate specific areas of interest. Telephoto zoom lenses, in particular, offer versatility in capturing both landscapes and wildlife within the landscape.
Should I invest in prime lenses for landscape photography?
Prime lenses offer superior image quality and maximum aperture capabilities, making them ideal for capturing intricate details and isolating specific elements within a landscape. However, they are less versatile than zoom lenses. Consider your shooting preferences and the types of landscapes you typically capture before deciding to invest in prime lenses.
Where can I purchase Canon lenses for landscape photography?
Canon lenses can be purchased from authorized Canon retailers, both online and in physical stores. Ensure that you are buying from a reputable source to guarantee the authenticity and warranty of the lens.
Final Thoughts
We hope you have found this guide to the Best Canon Lenses for Landscape Photography useful. As you can see from the above, we have selected what we believe are some of the best lenses on the market that we have had experience with. As with all equipment, do your homework and work out your budget, the camera you use, and what you want the lens to do. And remember the most expensive is not always the best!
Interested in a new camera and don't know which one to choose?  Take our quiz we created that researched hundreds of products and had input from many photographers we know.  It's a great quiz and we have loved the feedback from those of you that have tried it.
You may enjoy reading What is ISO in photography